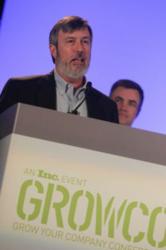 Lexington, KY (PRWEB) April 20, 2011
Carey Smith, president and CEO of Big Ass Fans, has been named Inc.'s Economy Hero. The competition, hosted by Inc. and its partner SAP, was created to highlight companies and their respective CEOs that are helping the country get out of the recession by providing jobs, innovative work, and new business models.
Out of 250 applicants, Smith was awarded the grand prize honor due to his continuous commitment to creating jobs and ground-breaking work. The economy has affected Big Ass Fans as it did most companies in the country. Unlike other companies, Big Ass Fans did not implement layoffs or cancel existing benefit programs. Instead, the company took the approach of looking for new markets and customers and developing new products for the long-term success of the business.
"I am honored to be named this year's Economy Hero," explained Carey Smith. "Our company has continued to grow in spite of the recession due to our constant investment in engineering to develop new and innovative products that provide energy-efficient air movement solutions for a wide range of applications."
Smith and the Economy Hero finalists were announced at Inc.'s GROWCO (Grow Your Company Conference) in Las Vegas. As the grand prize winner, Smith and Big Ass Fans Company received a prize package worth over $250,000.
For more information about Carey Smith and Big Ass Fans, please visit http://www.BigAssFans.com.
About Big Ass Fans
Big Ass Fans is the leading manufacturer of huge ceiling fans for large industrial, agricultural, commercial and residential settings. Big Ass Fans range in size from 6 feet to 24 feet in diameter, using low horsepower motors to generate energy-efficient air movement for large spaces. Big Ass Fans can be used year round to provide occupant comfort and energy savings. There are over 50,000 Big Ass Fans installed worldwide in applications such as manufacturing plants, distribution centers, horse arenas, dairy barns, stadiums, art galleries, restaurants, health clubs, zoos and homes! Product solutions include Yellow Jacket™, Pivot™, Powerfoil®X™, Powerfoil®X Plus™, AirGo™, and the new Element® and Isis® designed for commercial spaces. For more information about Big Ass Fans, please visit the Web site at http://www.bigassfans.com.
###