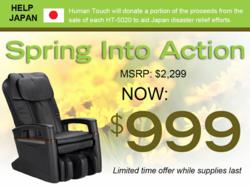 Long Beach, CA (Vocus/PRWEB) April 18, 2011
Human Touch®, the U.S. market leader of innovative massage chairs, Perfect Chair® recliners, and other wellness solutions, has announced a new charity initiative with GlobalGiving to help provide support to the Tsunami and earthquake victims in Japan. To help raise money for the Japan relief efforts, Human Touch® will donate a generous portion of the proceeds from its HT-5020 WholeBody® Massage Chair sales to the GlobalGiving Foundation, a 501(c)3 organization dedicated to unleashing the potential of people around the world to make positive change happen.
"As a company whose mission is to help people feel better through our state-of-the-art massage and wellness products, we strongly believe that it is our responsibility to give back to others by supporting vital causes that we care deeply about, such as the Japan relief efforts," said David Wood, Chief Executive Officer of Human Touch, LLC. "We are proud to be a part of GlobalGiving's efforts to help the countless victims in Japan rebuild their lives."
The Human Touch® WholeBody® HT-5020 is one of Human Touch's state-of-the-art massage chairs, offering a sleek and attractive form that looks great in any living space. And with all of the advanced massage capabilities built-in, it provides ultimate comfort and head-to-toe massage therapy relief. Key features include: three auto-programs incorporating four massage techniques that replicate the hands of expert massage therapists, ability for users to customize their massage with width and shoulder-height adjustments, a rotating extendable foot-and-calf massager, and two auto-positions. Originally priced at $2,299 MSRP, the WholeBody® 5020 Massage Chair is now on sale for $999 for a limited time.
Please visit Human Touch® online to learn more about this product promotion and charity initiative with GlobalGiving.
About Human Touch®:
In pushing the boundaries of its traditional massage chairs and wellness products through advanced proprietary technology and innovation, Human Touch® is focused on infusing health and wellness into everyday lives through high-quality, design-oriented and award-winning massage chairs, Zero-Gravity Perfect Chair® Recliners and other wellness products and solutions. Human Touch® has been making people feel better™ for more than 30 years by developing state-of-the-art massage and wellness products, as well as by providing valuable consumer education about the substantial health and wellness benefits of regular massage therapy, relaxation
and proper posture. Stress relief, increased range of motion, pain relief, improved circulation and increased immunity are just some of the valuable health benefits associated with regular massage therapy. Human Touch® products are available at back care specialty stores, fine furniture stores across the country, through international retailers and distributors in more than 40 countries, as well as online at http://www.humantouch.com.
###