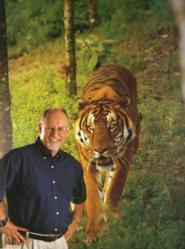 Apple Valley, MN (PRWEB) April 18, 2011
International tiger expert and the Minnesota Zoo's Conservation Director – Dr. Ron Tilson – will retire on Earth Day (April 22) after a lengthy and notable career.
Tilson has been at the Minnesota Zoo since 1984, where he has held various positions in research, biological programs and conservation. Tilson is currently responsible for the Zoo's endangered species and field conservation programs and is also an adjunct associate professor in the Fisheries, Wildlife and Conservation Biology Department at the University of Minnesota.
Tilson's significant achievements include creating the Minnesota Zoo's "Adopt-A-Park" program in Indonesia's Ujung Kulon National Park, the last refuge of the Javan rhino, in 1990; initiating the Sumatran Tiger Conservation Program in 1995, which integrated assessments of tiger habitat and prey, tiger-human conflict, anti-poaching patrols and undercover investigation of trafficking; and since 1987, coordinating the Tiger Species Survival Plan (SSP) of the Association of Zoos and Aquariums (AZA) which manages almost 400 tigers living in 120 North American zoos. In 2000, he was appointed the senior technical advisor to the State Forestry Administration of China to develop wilderness-based recovery options for South China tigers.
Said Tilson: "I have had the distinction and pleasure of spending my entire professional career in the company of the most magnificent beast on earth, ranging from conserving wild tigers in Asian forests to improving their daily care in AZA zoos to reducing irresponsible ownership in private homes. I look forward to the next adventure."
For work in tiger conservation, Tilson and his colleagues were awarded the international conservation award by the AZA in 1995 and 2004; the significant achievement award in 1993 and 1998; and the Edward Bean award in 1994.
Said Minnesota Zoo Director/CEO Lee Ehmke: "Ron's extraordinary career has resulted in an outstanding legacy: he has advanced zoo-based conservation and research, elevated the international stature of our Zoo, and perhaps most importantly has helped secure a future for wild tigers, the subject of so much of his work."
Dr. Tilson will continue to pursue his conservation work in an emeritus role as senior conservation advisor to the Minnesota Zoo Foundation.
During his career, Tilson spent over nine years living in field conditions, primarily in Indonesia, Namibia and China but also in Malaysia, India, Pakistan, Morocco, and Belize. Tilson has given hundreds of invited lectures or talks to a cross-section of academia and general public. He has written or co-authored over 220 popular and scientific articles; including "Tigers of the World: The Science, Politics and Conservation of Panthera tigris" published in
January, 2010: elsevier.com/wps/find/bookdescription.cws_home/715808/description#description
Tilson earned BS and MS degrees in entomology and a Ph.D. in ecology from the University of California-Davis, a 3-year post-doctorate at the Desert Ecological Research Institute in Namibia, and served in both the U.S. Marine Corps Reserves and as a Peace Corps volunteer in Malaysia.
The Minnesota Zoo is located in Apple Valley, just minutes south of Mall of America. For more information, call 952.431.9500 or visit mnzoo.org. The Minnesota Zoo is an accredited member of the Association of Zoos and Aquariums (AZA) and an institutional member of the World Association of Zoos and Aquariums (WAZA).
###