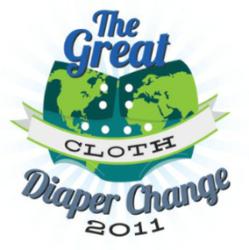 "We will set this Guinness Record on Earth Day to celebrate the tenets of Reduce, Reuse, and Recycle. " - Christine Alonso, event host and store owner at The Nurture Center www.nurturecenter.com
Lafayette, CA (PRWEB) April 19, 2011
Cloth diapers have come a long way in the past ten years. An event, called the Great Cloth Diaper Change 2011 is creating buzz in North America and all over the world, will take place on Saturday, April 23, 2011. The Great Cloth Diaper Change (http://www.greatclothdiaperchange.com) will set a Guinness World Record for the most cloth diapers ever changed simultaneously.
Parents, child birth educators, lactation consultants, pediatricians and environmentally responsible businesses agree that it is not environmentally or financially justified to continue sending billions of disposable diapers to landfills every year where it will take hundreds of years for them to decompose. Heather McNamara, of the Real Diaper Association, says that "our local volunteers are finding growing numbers of parents coming to find out about cloth diapers, whether it be for environmental, financial, or health reasons - - or even because these diapers are just plain cute!" It is the hope of the organizers that this event will be an eye opener and an inspiration for expecting and new parents to use cloth diapers, a more planet-friendly alternative that also saves parents substantial money.

Help set a Guinness World Record™! Follow the challenge on Facebook http://www.facebook.com/GreatClothDiaperChange and greatclothdiaperchange.com.
Date and Time is Saturday, April 23 at 9AM Pacific ‐ which means that on a global level some cloth diaper enthusiasts will gather and do the diaper change in the middle of the night. Exact information is available on a local level so that all participants, no matter where they live, can find the appropriate location and time.
Approximately 500 registered locations are available for families all over the U.S and worldwide.
Each local event is unique, with many hosts planning fun family activities for parents, friends and older siblings, leading up to the specific "change" time. You won't want to miss the local action in Lafayette California! Organizer Christine Alonso of The Nurture Center is eager to be a part of setting a Guinness World Record and letting the world know that cloth diapering rocks. The San Fransisco East Bay event is hosted by the Nurture Center and being held at Our Saviors Lutheran Church at 1035 Carol Rd in Lafayette California. Online registration for this and all other SF Bay Area locations is available at http://bit.ly/norcalpreregform
The Nurture Center is an independent retail store and support center, established in the year 2000 by two local moms. This Bay Area small business is a Medela Certified Nursing Center for breastfeeding resources and a regional hub for natural baby products such as reusable cloth diapers and organic infant gear.
This event is part of a larger (and growing) movement. Participants may contribute $1 (or more) at all North American events to benefit the Real Diaper Association, the 501(c)(3) nonprofit organization working to help families across the U.S. and Canada find and use reusable cloth diapers.
How it all started
The Great Cloth Diaper Change 2011 was initially the brain child of Judy Aagard of Tiny Tots in California, as a way to show our country and the world that cloth diapers are a real option for today's families. After initial contacts with Guinness World Records™ she saw the potential to help further enhance the cloth diapering movement, while setting a world record. The response has been above and beyond expectations. It is evident that cloth diapering has a formidable following not just in North America, but truly around the world. What better way to celebrate Earth Day 2011?
For updates http://www.facebook.com/pages/The-Nurture-Center/36865870907 http://www.nurturecenter.com/classes.html
###