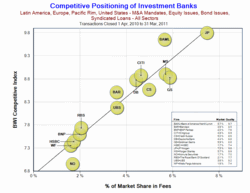 Palm Beach, FL (Vocus/PRWEB) April 18, 2011
Performance Consultants Brendan Wood International today released the quarterly results of its TopGun investment banking by the world's most 'deal-active' corporations. The TopGun search for the best in banking identified Bank of America Merrill's global banking brand as rated higher than Goldman Sachs, Morgan Stanley and many other world class firms in the bulge bracket. According to the global fee attribution in the Brendan Wood Competitive Index*, Bank of America Merrill Lynch is fast joining rival JP Morgan as the industry's leading revenue generators.
"Whatever else Mr. Lewis may celebrate or regret in his memoirs, his role in developing Banc of America Securities over ten years and his gutsy call on Merrill Lynch in an environment of intense pressure are incontrovertible achievements" said Brendan Wood, Senior Partner and Chairman of Brendan Wood International. "In an environment of negative public opinion toward the banking community at large, according to the Brendan Wood Global Panel of corporate executives Bank of America Merrill Lynch has enlarged its franchise, increased the trust and confidence of its clients, and demonstrated its ability to provide 'best in class' services to its corporate clients."
Although Bank of America Merrill Lynch now rivals the infamous Goldman Sachs brand, not so in the M&A advisory world, where Goldman Sachs clearly excels. However when the full spectrum of investment banking products is rated, BofA Merrill's brand ranked second only to JP Morgan. More compelling data are the global client ratings of BofA's professional bankers. In the vital TopGun Banker category, corporate clients ranked BofA Merrill even with Goldman Sachs on an "across the board basis" for its share of TopGun bankers. TopGun bankers were identified deal by deal by the Brendan Wood International Global Panel representing a world forum of executives whose selection decisions award the majority of banking fees. Post-deal debriefs conducted by Brendan Wood partners reconstruct transactions to create insight for corporate executives and investment banks on optimum performance. The firm also acts as placement agents and career advisors to TopGun Bankers and Corporate Executives. Although clients rate M&A a Goldman Sachs stronghold along with Morgan Stanley, the wave of BofA TopGuns is emerging from debt into the relationally intense Equity and M&A worlds. The latter being the steepest challenge.
"When it comes to the trusted M&A advisor, the industry's client base spreads out substantially. CEOs place a high value on the individual, often greater than the institution. Roughly 70% of these critical relationships are strictly personal. Many of these influential relationships are held by independant firms such as Rothschild, Greenhill, Lazard, Evercore and others," continued Mr. Wood. That dispersion of relationships makes M&A tougher territory for conventional banks to dominate, although JP Morgan holds 7.7% M&A market share, second only to Goldman Sachs. At first quarter 2011, JP Morgan emerged as the overall world investment banking leader setting the standards for combined size and quality with BofA Merrill close behind and gaining momentum.
M&A competition varies substantially from one geographic venue to another. For example, Goldman Sachs leads the field in the United States along with JP Morgan and Morgan Stanley whereas in Europe, the independent and very highly-regarded Rothschild is in 3rd position and is usually a close contender for first place. In fact, the selectively targeted Rothschild relationship management strategy effectively wins mandates for the advisor in 89% of its proposals whereas the industry average is roughly 61%. Rothschild, also a major cross-border advisor worldwide, is not nearly as ubiquitous in the U.S. domestic marketplace. Clients gave competitor Lazard almost equal ratings in both the U.S. and Europe. Collectively, clients are awarding roughly 30 percent of their M&A mandates to non-bank owned and specialty firms.
Morgan Stanley is a force to reckon with in a fiercely competitive equity market. Morgan Stanley holds first place with JP Morgan an inch behind. Goldman Sachs, Bank of America Merrill Lynch and UBS round out the top five. While JP Morgan benefits from its Cazenove purchase, Morgan Stanley's team has achieved this position organically. BofA, with its 2nd place share of TopGun bankers, is poised to rise to 3rd in 2011, displacing rival Goldman Sachs.
Brendan Wood's Predictive Banking Performance Index places BofA Merrill Lynch in second place for world banking come year end 2011. Mr. Lewis, who from time to time asserted frustration with the investment banking side of the business, may have transformed his nemesis his greatest legacy. If BofA finds the key to growth in its M&A franchise there may be no looking back.
###