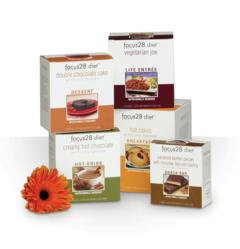 Our focus has always been helping people lose weight. With our partnership with Diet.com, we hope to help even more
(Vocus/PRWEB) April 18, 2011
When Diet.com relaunched their online store, they chose to partner with Focus28 Diet, Inc. to offer their visitors and members the best protein-rich weight loss solution. Focus28's two most popular weight loss programs are available for immediate purchase, and Diet.com members will receive store opening discounts.
Focus28's Slim Celebration promotes up to 10 pounds of weight loss in only two weeks while the 28 Day Tune-up will have you losing up to 20 pounds or more in four weeks. All Focus28 weight loss programs include protein enhanced meal replacements, supplements, and snacks, the proprietary Iso-Towel Workout including the Iso-Towel and instructional DVD, and full telephone and 24/7 online chat support.
"We've worked hard to design a weight loss solution that's effective and tasty too. To be chosen by Diet.com as their exclusive weight loss offering is validation of our effort, and we are honored," stated Mitch Suss, president and owner of Focus28. "We're offering our two most popular programs at the Diet.com store relaunch, but we're looking forward to offering our longer and diabetic-specific programs soon."
Focus28 anticipates a warm welcome for its weight loss programs among diet.com members and with store visitors. The Focus28 solution has proven successful for its thousands of satisfied customers over the years, and will surely help more with the exposure and exclusivity via diet.com. "Our focus has always been helping people lose weight. With our partnership with Diet.com, we hope to help even more," said Mitch Suss.
About Focus28 Diet, Inc.
Focus28 started out treating post-op bariatric surgery patients. Their success in developing programs specific to the needs of bariatric patients and their long-term maintenance led directly to the development of the Focus28 Weight Loss solution. The Focus28 weight loss approach promotes protein enhanced diet foods that safely and effectively impact weight loss through calorie reduction, exercise, and continual support. Focus28's programs include meal replacements, supplements, and snacks that keep you eating every 2-3 hours so you're never hungry. The higher protein amount keeps energy levels up, increases metabolism, and maintains and promotes lean muscle. The combination of delicious diet foods, the proprietary Iso-Towel Workout, and patient support has proven a successful formula for weight loss.
About Diet.com
Diet.com is the next generation platform for consumer nutrition, fitness, and healthy living. It provides vital information and support to educate and motivate users to live well. With registered dietitians and fitness experts to give personal advice to its members, Diet.com is dedicated to understanding users' specific needs and personality traits, and giving them structure they need to develop a long-term healthy lifestyle.
###