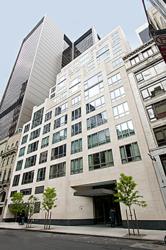 Apartments at The Centurion are truly one-of-a-kind.
New York, NY (PRWEB) April 20, 2011
The Centurion®, the only ground-up residential condominium project in New York City designed by internationally renowned Design Architect/Pei Partnership Architects with I.M. Pei, is nearly 60 percent sold and closed two units totaling more than $7.5 million so far this month.
One three-bedroom, 3.5-bath, 2,473-square-foot condominium residence, with northern, eastern and southern exposures, sold for $5 million; and another two-bedroom, 2.5-bath 1,489 square-foot home with northern exposures sold for approximately $2.67 million. Two more two-bedroom residences and a one-bedroom residence are currently under contract. Interiors in these, and all apartments in the building, were designed by SLCE Architects and include sound-insulated windows, clear glass countertops, floor-to-ceiling bathroom accent walls of Crystal White chiseled marble, Kallista polished chrome sinks, teak and limestone floors, and Bosch Axxis washer and dryer.
"Apartments at The Centurion are truly one-of-a-kind." said Amy Williamson, vice president of sales for Prodigy Network, the exclusive sales and marketing agency on the project. "With these sales and what is in contract, there are only 18 homes remaining available in this unique building. We've seen great interest from the international and domestic audience who find value in owning a piece attached to the 'Pei' name, and are looking forward to strong spring sales."
The 17-story luxury condominium features 47 exceptional one- to four-bedroom residences. All apartments at The Centurion, which is constructed with Chamesson limestone imported from France, contain the materials, textures and quality consistent with the architectural integrity of Pei Partnership Architects and I.M. Pei, who is well known for the Pyramid entrance in the Lourve in Paris and the Four Seasons Hotel in New York City.
Located at 33 West 56th Street off Fifth Avenue just steps away from world-famous shopping, museums, entertainment, dining, city landmarks and Central Park, The Centurion offers amenities including a private exercise facility, a 24-hour attended garage, a doorman, resident superintendent, spa treatments in-home from neighboring Townhouse Spa and spa specials at the Peninsula, and storage units for purchase.
The floor and one continuous wall of the attended lobby are soft, cream-colored Magny du Louvre French limestone accented by finishes of blonde Anigre wood, decorative marbles, and rich leathers. An elegant seating area with sophisticated artwork offers a tranquil place to rest and enjoy the Water Garden, which is visible through the lobby's full glass wall.
Prodigy Network has an onsite sales office in the building. For more information or to schedule a private appointment, call 212-888-5633 or visit http://www.centurioncondominium.com.
Prodigy Network
Prodigy Network is a fully integrated real estate company, dedicated to representing third-party developers as the exclusive organization for sales and marketing of premier condominium projects. The company has an impressive track record of driving sophisticated buyers to the most exclusive properties in New York, Miami, Dominican Republic, Panama, Mexico and Costa Rica, through a global network of brokers from locations around the world including Spain, Italy, Switzerland, Russia, Colombia, Argentina, Mexico, India, Singapore, China, Hong Kong, and Korea. http://www.prodigynetwork.com
###