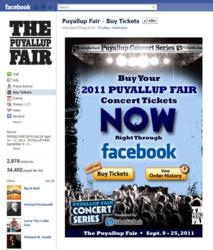 This opens up a whole new world of possibilities for ticketing within Facebook...
Fresno, CA (Vocus/PRWEB) April 19, 2011
ShoWare™ by VisionOne has enhanced its revolutionary REAL Facebook Ticketing application, allowing ShoWare™ clients to not only sell tickets directly through their Facebook Fan page, but now empowering them to share their Facebook Ticketing application with artists and vendors to expand their social media reach and ticket sales opportunities.
ShoWare™ is the first ticketing system in the world to develop and implement a fully integrated Facebook Ticketing application allowing ShoWare™ clients to sell event tickets directly through Facebook. This unique application was designed and developed by the ShoWare™ in house development team to help clients capitalize on the distinctively powerful presence of Facebook and its 500 million worldwide users. With recent enhancements, ShoWare™ clients will now be able to share their "Buy Tickets" button with other "Fan" pages to expand their ticket selling and marketing reach. Venues will have the ability to empower promoters and other organizations to sell their event tickets through their "Fan" pages while the venue is selling the tickets through their own "Fan" page. All ticket inventories continue to be managed through the venue's ticketing system securing the integrity of all data and inventory management.
"This opens up a whole new world of possibilities for ticketing within Facebook, this new functionality will allow venues and artists playing at those venues to have Facebook Ticketing not only on the venue's Fan page, but also on the artist's Fan page," says Joe Wettstead, Vice-President of Sales and Marketing at ShoWare™. "Sharing ticketing purchases by patrons on Facebook has been a practice of many ticketing vendors for a long while, but ShoWare™, with its new event filtering, will allow venues and artists to team up and leverage their fan bases. It takes ticketing to a whole new level, in terms of viral marketing and social media mining."
To purchase tickets through the Facebook Ticketing application, patrons simply visit their venue or artist Facebook "Fan" page and click on "Buy Tickets". While still in Facebook, they will see the events available to purchase. They select their event, choose their seats enter their credit card information in a secured browser and receive their Print@Home tickets or pick up the tickets at will call. The patron can also "share" their purchase directly from the confirmation screen. All of this occurs without the patron ever leaving Facebook.
Shortly after launching the REAL Facebook Ticketing application, ShoWare™ set a new company record when ticket sales exceeded 1.3 Million Domestically in March 2011. ShoWare™ is on pace to sell in excess of 40 million tickets worldwide in 2011.
Many ShoWare™ clients have already found success in this revolutionary sales channel including Rams Head in Maryland, Seattle Thunderbirds, Puyallup Fair outside of Seattle, Tacoma Symphony, and Granada Theater in Dallas. These, and many other ShoWare™ clients, are using this tool to expand communication with their patrons and provide a level of convenience never seen before.
To learn more about the ShoWare™ ticketing system and REAL Facebook Ticketing features please visit http://www.showare.com or call 866-215-1026.
About ShoWare™ by VisionOne, Inc.
ShoWare™ by VisionOne, Inc. was established in 1994 and now has an international presence on three continents. With U.S. offices in California, Nevada, and Maryland as well as international offices in Switzerland, Austria, Chile, Mexico, Argentina, and Brazil; ShoWare™ has made a name for itself by being the first ticketing company in the world to develop a fully integrated Facebook Ticketing application. ShoWare™ also focuses heavily on providing its customers 100% control of their ticketing system, patron satisfaction and revenue generation as well as cutting edge technology, superb customer service and the constant desire to evolve with the ticketing industry. ShoWare™ is a proud member of INTIX, IAFE, IAVM, Musical America, and LHAT.
###