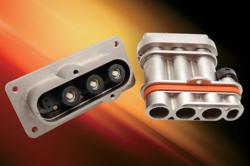 The lightweight, compact connectors feature Amphenol's patented RADSOK technology that attains higher current ratings and lower contact resistance in comparison to other contact methods on the market.
(PRWEB UK) 20 April 2011
The latest ePower connectors from Amphenol Industrial, a global leader in interconnect systems, are ideal for energy storage systems including mechanical, electrical, chemical and thermal. The IP67-rated ePower 400A connectors are rated 1,000-volts DC and feature integrated EMI shielding.
These versatile connectors are perfect for applications that require high voltage and high amperage. The competitively priced connectors are ideal for the growing energy storage market, where space is at a premium and budgets are often limited as they can replace up to three conventional connectors, saving on space and cost.
With a 40% smaller footprint, Amphenol's ePower family of connectors offer more power in less space with the RADSOK contact system, an electrical terminal based on a hyperbolic grid configuration allowing lower insertion forces and easier mating. The unique system eliminates the need to run wires through bulky cable glands in a traditional three-phase motor assembly, resulting in a user-friendly, reliable connection with minimal maintenance issues.
The new connectors are available in two- and three-pin power configurations ranging from 100 amps through 500 amps per contact and can accommodate two small gauge signal contacts for HVIL (high voltage interlock loop). The ePower connectors operate at 800-volts DC to 1,000-volts DC and can be used in a variety of applications including power converters, hybrid electric vehicles, heavy equipment electrification, two-and three-phase motors and starter generators.
The IP2X style sockets are available in crimp, lug or bus bar termination, while cable plugs feature IP2X style crimp pins and can accommodate shielded wires. Wire sizes from 50 mm² to 95 mm² can be used with the ePower connectors that feature an all-aluminum shell, strain relief for the jacketed cable incorporated into the shell and outstanding vibration resistance.
European PR Contact: Jennie Tovey
TOVEY PR
21 School Lane, South Cerney, United Kingdom GL7 5TY
Tel : +44 (0)1285 869848
E-mail jennie(at)toveypr(dot)co(dot)uk
Reader Enquiries please to: Silvana Allegra
Amphenol Industrial Operations, Europe
Via Barbaiana n.5, I-20020 Lainate (MI), Milano, Italy
Tel : +39 02 93254.204 Fax : +39 02 93254.444
E-mail : sallegra(at)amphenol-aio(dot)com
http://www.amphenol-industrial.com
Notes For Editors:
Amphenol Industrial Operations, headquartered in a 675,000 square foot facility in Sidney, NY, provides a full range of high reliability connectors and interconnection systems specifically for the industrial markets including base stations, rail/mass transit, process control, automotive manufacturing, heavy equipment, and petrochemical/power generation. Products include ruggedised-for-industry cylindrical, fibre optic, rectangular, and industrialised versions of Amphenol's MIL-C-5015 cylindrical, MIL-C-26482 miniature cylindrical and GT reverse bayonet cylindrical connectors. It employs more than 1,400 people and is both ISO9001 and MIL-STD-790 certified. Amphenol Industrial Operations is a division of Amphenol Corporation, Wallingford, CT, one of the largest manufacturers of interconnect products in the world, with year 2006 sales topping US $2.5 bil
###