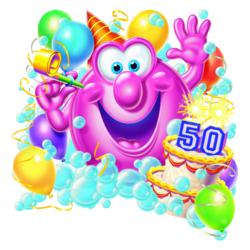 Chaska, MN (PRWEB) April 19, 2011
Give kids more than just candy this Easter. When it comes to filling up Easter baskets, many kids can't wait to hunt for those candy packed Easter eggs. For parents, the holiday doesn't have to send kids on a sugar overload. Add Mr. Bubble Foam Soap to the baskets; it's a fun, candy‐free gift kids will love!
Kids will bubble over with excitement when they find Mr. Bubble Foam Soap in their baskets this Easter. It's a great way for kids to play while getting clean in the tub, shower or at the sink. The gentle foam is easy–to‐ use, allowing kids to wash away germs on their own. Mr. Bubble Foam Soap comes in Original Bubble and Extra Gentle. The Extra Gentle Foam Soap is dye‐free and fragrance‐free and is available wherever bath products are sold at the low suggested retail price of $2.99 for an 8 oz can.
Find Mr. Bubble on Facebook and Twitter to see more of his bubbly personality. And, visit the new mrbubble.com to see all the new products and Mr. Bubble history.
###
About Mr. Bubble®
For 50 years Mr. Bubble® has been an iconic brand and continues to be the best-selling bubble bath in the United States.* After being purchased by The Village Company, LLC in 2008, Mr. Bubble was reformulated to create even more bubbles with a gentler clean. In 2011, the brand celebrates its 50th birthday with special edition packaging and a new look for Mr. Bubble. Learn more at http://www.MrBubble.com.
*Source: Nielsen Total U.S. FDM 52 weeks ending 12/25/2010.