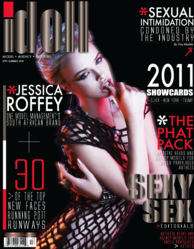 New York, NY (PRWEB) April 19, 2011
Models from top agencies such as One, Next, Wilhelmina, Elite, and many others, now have a magazine to call their own. It's pronounced I•DOLL and it's a printed publication that focuses on Models, Agencies, and the Modeling Industry in general. On April 23rd, 2011, Idoll Magazine is celebrating the launch of their S/S 2011 Issue at Hotel Gansevoort - Park Avenue South, (420 Park Avenue South, Manhattan, N.Y.). Guests are anticipated to include notable modeling agencies (such as One, Marilyn, and Fenton Moon), 'America's Next Top Model' winners, celebrity photographers, make-up artists, as well as hair and wardrobe stylists.
The S/S 2011 issue features Jessica Roffey (One) on the cover and is currently on bookshelves such as Barnes & Noble. Idoll is loaded with fresh perspectives on the modeling industry. Inside the pages of Idoll, readers can find a consortium of agency model blogs from New York, Milan, Paris, and London, a guide to the top 30 new 'model' faces, '1st looks' backstage at Fashion Week, as well as an article on a separate 'visa class' for working models. The current issue features inspirational and insightful comments from industry architects such as Gl Wood (fashion photographer), Ope (stylist), Gregory Kaoua (hair master), and Paul Innis (make up artist). It also contains insightful comments from booking agents at Next, DNA, Elite, Women, Marilyn, Major, and Click etc. Fashion enthusiasts can find S/S 2011 runway show lists from Roberto Cavalli, Dolce & Gabbana, Prada, and Herve Leger. They can also see their favorite runway rebels like Daiane Conterato, Diana Dondoe, Eileen Hydorn, Irina Berezina, Kinga Rajzak, Lynn Amelie Rage, Monika Jac Jagaciak, Samantha Gradoville, Tali Lennox, Tatiana Cotliar, and Valerija Kelava.
With an Interview from Ones' Scott Lipps, show cards from Click, New York, and Trump Models, and an interview with Alexandre Arnault aka D.J. AA, the issue solidifies it's edge and provides both the Modeling Industry and the general public the first publication of its kind.
Idoll Magazine's Founder and Publisher, Tyrone Christopher, was quoted as saying "at the heart of Idoll is the recognition that agency models are not just majestic beings but human beings, with unknown personalities, upon which popular culture projects its' fears, ideals, and most intimate desires. As an answer to this, Idoll Magazine paves a way for not only the model but the entire industry to not only be seen but to now also be heard."
Idoll Magazine is published twice a year, and is primarily a reflection of the professional contract model, the top model agency industry, their roles in the beauty and fashion industry, and their influence on pop culture, which gives it mainstream sensibility. The magazine unfolds and delivers the voice of the modeling agency industry. Articles include topics such as the politics, policies, myths, suggestions, requirements, roadblocks, and guidelines. Also highlighted and discussed are the people behind the image, the producers, photographers, as well as the Ad agencies and support staff that make one picture speak a thousand words. The magazine gives the models and those behind the camera a chance to tell the truth. The positive and the negative. Idoll Magazine is distributed nationwide through RCS and Modeling Industry enthusiasts can find Idoll Magazine at Barnes & Noble, Universal News, as well as at convenience stores and bodegas across the country. For more information please go to http://www.idollmag.com or send an email to info(at)idollmag(dot)com.
###