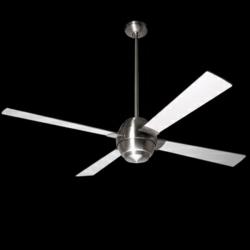 Walnut Creek, CA (Vocus/PRWEB) April 19, 2011
YLighting announces the exclusive launch of the Gusto ceiling fan by Modern Fan Co. Gusto, designed by the founder of the Modern Fan Co., Ron Rezek, incorporates symmetry, balance and continuity into its sleek modern look. The modern ceiling fan is constructed from die cast aluminum and is available in bright nickel plated or gloss white powder coated finishes and comes with a 75-watt halogen or 26-watt CFL lighting option. Gusto is currently available online exclusively at YLighting.
"As with most Modern Fan Co. designs, the Gusto is an investigation into the relationship of simple geometries, delivering a product that's interesting but not distracting, unique but familiar," said Ron Rezek, the founder of Modern Fan Co. and designer of the Gusto fan.
YLighting carries the full collection of Modern Fan Co. designs, including the best-selling Ball Ceiling Fan and Cirrus Ceiling Fan. In addition to the new Gusto ceiling fan, YLighting will add three more new Modern Fan Co. designs to their collection in summer 2011, including the Stella, Plum and DC Slim ceiling fans.
Save Energy with Modern Fans
In the summer months modern ceiling fans offer energy saving benefits when it's run in a counter-clockwise direction. While a ceiling fan does not necessarily lower the temperature, it makes a room feel cooler by circulating air. Effective circulation can make you feel up to eight degrees cooler, and reduce air conditioning bills by up to 40%.
In the winter months you should run your ceiling fan in a clockwise direction. This pushes warm air that's up near the ceiling down the walls, gently recirculating warm air through the room without causing a chilly breeze. This can help lower home heating costs by as much as 10%.
For maximum energy saving benefits, consider an Energy Star ceiling fan. Most modern ceiling fans sold on YLighting are Energy Star qualified. These ceiling fans are over 50% more efficient than conventional fan units without sacrificing style.
"Ceiling fans are one of the few household appliances that can save you money and look good enough to enhance the decor of nearly any room," said Sean Callahan, CEO of YLighting.
How to Purchase the Right Modern Fan
YLighting is the largest retailer of Modern Fan Co. products and offers consumers a Modern Fan Buying Guide to help aid in their modern ceiling fan selection process. The guide includes frequently asked questions concerning local ceiling fan codes, blade sizes and lighting options for modern ceiling fans. Additionally, YLighting has over 1,000 customer peer reviews of Modern Fan Co. products.
About YLighting
YLighting was founded in 2001 with the idea that modern lighting is functional art but buying it shouldn't be a project in itself. We travel the world to find exciting new designs and give our customers the finest in modern and contemporary lighting, ceiling fans and accessories. We carry over 6,000 designs across more than 110 brands and are one of the largest retailers for brands such as Artemide, FLOS, Modern Fan, Nelson Bubble Lamps, Foscarini and Louis Poulsen. YLighting serves design-savvy customers, trade professionals and businesses. YLighting's sister-store, YLiving offers the best in modern furnishings and accessories.
About Modern Fan Co.
The Modern Fan Co. is the original and premier source for contemporary ceiling fan design, producing the most complete, exclusively modern collection of ceiling fans available. Our products celebrate the modern idiom through mechanical simplification, geometric forms and contemporary finishes, and are intended to meet the needs of the professional specifier and the design-minded homeowner alike.
###