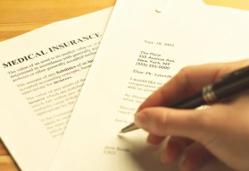 When it comes to health insurance claims, 'no,' it turns out, isn't always an insurer's final answer
West Palm Beach , FL (Vocus/PRWEB) April 19, 2011
When it comes to health insurance claims, 'no,' it turns out, isn't always an insurer's final answer. Indeed, says Florida trial lawyer Patrick J. Tighe, appeals of insurance company decisions have surprisingly high success rates, and consumers are well advised to keep pursuing a reversal -- first by administrative channels; then, if necessary, with the help of an experienced insurance attorney
"Too many consumers not only don't realize how successful appeals can be, but that they can do them at all," says Tighe, senior partner at the law firm X1law, P.A. "The system is set up to prey on the uneducated. A consumer gets a denial of coverage, then the doctor's bill, and pays it -- reluctantly, unhappily, but without understanding that he or she really might not have to." It's a process that Tighe, who worked at a major insurer before representing consumers, has seen firsthand. "Insurance adjusters will routinely deny claims first -- and see who appeals. Most people don't even realize they can call, complain, and have their claim looked at again."
Consumers who do appeal often get the answer they're hoping for, too. A recent report by the General Accounting Office found that appeals to insurers have a 50 percent success rate in some states. Many initial rejections are based on minor technicalities, such as a typo in the diagnostic code a medical provider submits to the insurer. Such errors can be fixed, and the claim approved -- if a consumer appeals the rejection.
Tighe does caution consumers, however, to enter the appeals stage educated and prepared. Documentation from a doctor -- explaining, for example, that treatment the insurer says was not necessary was indeed needed -- can greatly bolster one's case. So, too, can any relevant medical records, and a clear and well-written summary of the circumstances behind the claim. For example, if a toddler's emergency room visit is denied because, the insurance company says, he could have been taken to a pediatrician, instead, it can be helpful to note that at the time of the visit, the doctor's office was closed. If a health insurance claim was denied because the insurer said it was not accepted practice, copies of medical journal articles saying otherwise can be significant. In all of these instances, an experienced insurance lawyer can help make -- and win -- the case, often by simply contacting the insurer and resolving the situation amicably.
"A lot of consumers don't realize that this is something insurance lawyers do all the time," says Tighe. "We'll call and fax the insurer and explain what happened -- and why this was a valid claim. And we get results -- in many cases without the need for litigation or other formal legal action. We're seeing too many consumers read the denial and pay the bill. And in a great percentage of cases, they're doing so unnecessarily. Insurance companies know this, and rely on this. They're savvy. The good news is that consumers can be savvy, too."
For over a decade, West Palm Beach injury attorney Patrick J. Tighe has been protecting the rights of consumers, having represented thousands of individuals in insurance claims that were wrongly denied, delayed, or undervalued. Earlier in his career, Tighe spent nearly ten years working on 'the other side,' defending insurers in injury lawsuits. That experience gave him invaluable insight on how big insurers approach and handle insurance claim cases -- insight that is leveraged every day to bring results, and justice, for clients.
CONTACT:
Patrick J. Tighe
X1LAW, P.A.
(561) 537 5059
INFO(at)X1LAW(dot)COM
###