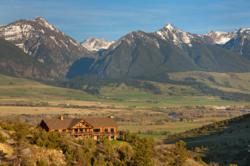 Heaven's gateway to Yellowstone National Park
Livingston, MT (Vocus/PRWEB) April 19, 2011
PureWest, an exclusive affiliate of Christie's International has now opened the doors on its newest real estate office in the Paradise Valley, Montana. The office is located just south of Livingston and headed by Kim Viers Busby. This new office expands the PureWest physical presence to the Paradise Valley and serves as a localized expert advisor for luxury real estate buyers in the Paradise Valley, Big Timber and the Shields Valley.
Kim Viers Busby recently joined PureWest – Christie's International Real Estate to establish this new office. Kim is a licensed real estate broker specializing in ranch properties and luxury homes in the Paradise Valley and surrounding area. Kim is a consistent top producer who began her career with Dave Viers and Associates, a brokerage specializing in large ranch properties in Southwest Montana.
Kim has over 20 years experience in ranch and premium Montana homes and prior to joining PureWest Christie's Kim received an International Collection Certification which reflects her emphasis in specialty markets such as resort and second homes.
PureWest CEO Stan Feagler stated that the Paradise Valley office is a strategic location for the growth of PureWest – Christie's. As home to some of the most scenic ranches in the state with stunning Absaroka views and Yellowstone river frontage, PureWest – Christie's presence is a natural fit. Since opening their doors in October 2009, PureWest has operated out of offices in Big Sky and Bozeman. PureWest is looking to expand their market momentum and Christie's International brand awareness with this new office opening.
The office will make it more efficient to serve the Paradise Valley market as well as luxury properties in the Shields Valley and near Big Timber. Examples of luxury properties for sale in the Paradise Valley include:
9 Mill Creek Road, Paradise Valley – $1,900,000
West Boulder River Valley - $2,499,999
Yellowstone River Retreat, Paradise Valley - $1,595,000
65 Suce Creek Road, Paradise Valley - $1,250,000
About the company: The addition of the Paradise Valley office is an important step for PureWest – Christie's. Established in October 2009 as the premier luxury real estate company in Big Sky, the Bozeman office was added in June 2020. Often requiring interstate or even international correspondence and experience, the listing and sale of premium primary and second homes can be handled by the select few. PureWest - Christie's real estate agents have the experience and understanding to execute such sales. For more information regarding premium Montana real estate, please visit http://www.purewestproperties.com or call (406) 586-9418 to speak with an agent.
###