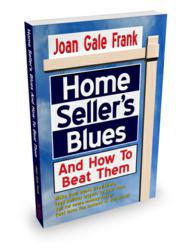 Frank's most important piece of advice: Don't unplug your life -- make the wait productive.
Portland, OR (PRWEB) April 19, 2011
With no housing recovery in sight and median home prices hitting 9-year lows, home sellers continue living in limbo -- feeling anxious, angry and tired of cleaning their countertops. "It's an epidemic I'm calling HSB -- Home Seller's Blues," says real estate investor, Joan Gale Frank. To address these symptoms and offer new home selling tips, Frank wrote Home Seller's Blues And How To Beat Them.
When her own Arizona home didn't sell for a year, Frank took action. Rather than continue suffering, she called top Realtors, home stagers, landscapers, marketers and psychologists around the country, asking for their best advice on how to sell a house faster -- and stay emotionally balanced during the long home selling process. Her research paid off. Frank learned to use buyer/seller psychology to sell her house, and she started enjoying life again while waiting for a buyer.
After moving, Frank noticed "For Sale" signs everywhere, so she wrote Home Seller's Blues to share her successful selling tips with other frustrated home sellers. Her advice is comprehensive -- from how to make your house look richer by installing a $20 polished brass kickplate to your front door, and swapping plain drawer pulls and light switch plates for classier ones, to handling midnight anxiety attacks and insomnia.
Frank's other home selling tips include making detailed word changes to advertisements to attract specific buyers and emphasize why your home is a good investment. She suggests creating a highlight sheet of neighborhood amenities, such as nearby parks, restaurants, medical facilities, public transportation, and whether your area has a lower relative tax rate. She also covers win-win home pricing strategies, finding the best Realtor, and how to create a "hide-away" system to quickly stash messes before home showings.
Frank's most important piece of advice: Don't unplug your life -- make the wait productive. She dedicates several chapters of Home Seller's Blues to overcoming negative emotions using strategies such as 20-minute "focused worry" sessions and making progress in other life areas, such as getting involved in hobbies, cultivating new income-producing skills, and completing personal projects.
"Ms. Frank's insights into the emotions, psychology and real estate strategies of home selling are right on," says Alexis Halmy, a principal broker in Portland, Oregon. Margaret Hassani, a real estate broker in Tampa, Florida added, "Frank's insightful tips are infused with humor. Moreover, she provides ingenious ideas that anyone can easily implement to make their home stand out amongst the competition."
Home Seller's Blues is available in paperback and Ebook from http://homesellersblues.com and from Amazon.com.
About the Author:
Joan Gale Frank is an award-winning writer and video producer for many Fortune 500 companies. She invests in international real estate, provides home selling advice on her blog at http://housesellingblues.com and speaks to business and real estate groups.
# # #