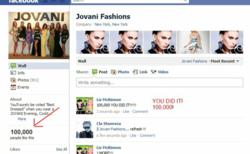 New York, NY (Vocus/PRWEB) April 18, 2011
The highly sought after designer of women's evening dresses had great reason to celebrate this past weekend, as their long-time goal of reaching 100,000 Facebook fans was achieved. Many would say that the glorious accomplishment was anything but conventional and truly epitomizes the power of social networking in today's generation. No one could have guessed that an idea drawn up on a simple Sunday evening would cause a spine-tingling commotion all over the world.
An effortless Facebook status update that mentioned, as well as "tagged," Jovani Fashions was all it took to win a free Jovani prom dress—and the rest was history. Fans of all age groups and ethnicity filled their personal Facebook pages with countless Jovani status updates, urging their friends and networks to become a "fan" of the company's page to help them reach 100,000 fans. The fashion house, positioned at 97,000 fans at the start of the contest, saw a growth of over 3,200 fans in just 4 hours.
Loyal fans from places like Rome, Serbia and Australia held off from going to sleep just to wait and witness the fashion company's triumphant milestone. One could have mistaken this extraordinary event for a New Year's Eve countdown, as so many were tirelessly cheering and patiently waiting for the 100,000 fan mark to be reached.
Was it a stroke of luck or pure genius? It's tough to call. What we can suggest is that media experts and strategists could surely take a cue or two from this fashion experiment. For the past two years, the high-fashion designer posted pictures of A-list celebrities wearing their exquisite dresses and gowns all over their Facebook page, as well as new Collection updates and press mentions. While all of that certainly helped to create a buzz among prom girls yearning to wear the same gown Taylor Swift wore in her "You Belong With Me" music video or the sparkly mini dress Katy Perry rocked to her recent perfume launch in Mexico City—nothing seems to top off yesterday's stimulating event.
Company
Jovani is a family-owned fashion house that designs and manufactures elegant women's evening attire. From prom dresses, wedding gowns, cocktail and homecoming dresses, not to mention red carpet couture, Jovani has a collection for every formal need. As an innovator in women's evening wear, Jovani's designer dresses are both fashion-forward and timeless. The eye-catching styles are unique and versatile, and are a favorite among Hollywood's young elite. On the red carpet and inside the pages of high-fashion magazines, Jovani dresses make a glamorous statement wherever they go.
Contact: Lianne Gourji
Phone: (212) 279-0222 Ext. 111
# # #