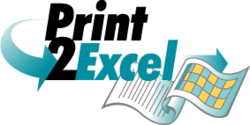 Print2Excel can export any document to Microsoft Excel. It will format the final Excel worksheet to look like the original document.
Allen, TX (Vocus/PRWEB) April 19, 2011
Print2Excel allows any document to be exported to Microsoft Excel. It adds sophisticated functionality like printing profiles specific to each document or report, which allows customization on how the information is presented in Microsoft Excel.
This is how it works
As the document is being exported to Excel the software allows certain rows to be deleted, like headers or footers on each page. It will also reformat numbers and text according to the custom profiles created before the print. Some documents may have an odd layout. Print2Excel has advanced logic to sense the layout and process the file correctly. The user can make changes to the logic, thus customizing the layout completely.
Profiles
Since certain documents and reports require tedious data cleanup to be useful in Excel for further processing, Print2Excel introduces profiles. Profiles are a set of post-processing settings, which Print2Excel can use for certain documents to quickly provide useful data in Excel. Via profiles advanced settings like removing certain data sections, blank rows and columns, apply certain text formats etc. can all be set specifically for one report or document type, so subsequent printing of these reports immediately makes the data available in Excel cleaned up and ready for the user to use.
How does it technically work?
It works by adding a virtual printer in Windows, when printing to this printer from any windows program, the printer analyzes the printed pages and translates it into a Microsoft Excel worksheet. The Print2Excel program then launches the post processing parts to prepare the Excel data for further processing in Microsoft Excel.
###