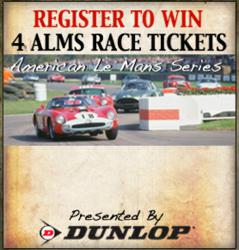 Hershey, PA (PRWEB) April 19, 2011
For vintage car enthusiasts, it's hard to dislike a racing event, such as the American Le Mans Series (ALMS), as it provides exciting racing, while refreshing the mind with great memories of the glory days of road racing. Some of the greatest racing battles have occurred on various road courses around the world, and this same type of excitement is alive and well, thanks to the ALMS. For a limited time users can register at Universal Vintage Tire for a four-ticket giveaway for the American Le Mans Northeast Grand Prix, at Lime Rock Park in Lakeville, Connecticut. This race takes place on Friday, July 8, and Saturday, July 9, 2011.
To enter the contest, no purchase is necessary—in fact, a purchase of a product or service from Universal Vintage Tire will not improve the chance of winning. Contestants need to visit the Universal website and fill out the entry form online. To participate, one must be 21 years of age, and a legal resident of the United States. Employees of Universal Vintage Tire or any of its affiliated companies are not eligible to win. The Universal Vintage Tire race ticket giveaway presented by Dunlop, will be accepting entries online starting January 24, 2011 and ending at 11:59:59 PM (EST) on May 31, 2011.
Only one entry per person is permitted. Contestants must enter their full name, age, phone number, address and email address to be entered into the drawing for this VIP prize package valued at approximately $2,000! The prize includes one VIP parking pass for Saturday, July 9, and four race tickets for that day's activities.
Those interested in entering the Universal Vintage Tire race ticket giveaway, presented by Dunlop, should simply visit the Universal website at http://www.universaltire.com and scroll to the bottom right corner of the page. Click the graphic about the promotion to be taken to the sign up page. The deadline for entries is May 31, 2011.
For antique tires and other accessories, contact Universal Vintage Tire toll free at 1-877-454-3954 or browse the website, which has the complete product lineup, including Whitewall Tires, Redline Tires, and a variety of other antique tires available for purchase. Universal Vintage Tire is located at 2994 Elizabethtown Road in beautiful Hershey, Pennsylvania. From brass era cars to military vehicles, Universal Vintage Tire caters to a wide range of collector vehicles, and keeps its customers happy with great service and cool contests, like this great race ticket giveaway, presented by Dunlop.
###