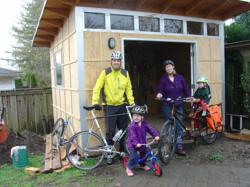 DIY is certainly an option but but the installation fee is a good deal. I'd recommend it for this price.
Boulder, Colorado (PRWEB) April 21, 2011
STUDIOSHED®, located at the base of the foothills of the Rocky Mountains, is recognized as one of the most popular cycling cities in the U.S. The company's founders, Mike Koenig and Jeremy Horgan-Kobelski, met riding bikes. Koenig's a former pro mountain bike racer and Horgan-Kobelski is an Olympic athlete and 5-time National Champion currently racing for the Subaru Gary Fisher Mountain Bike Team.
First quarter data shows that Boulder County isn't the center of the universe when it comes to two-wheeled passions. Customers across the U.S. are looking for aesthetically pleasing and affordable storage units that complement their demand for attractive outdoor living space.
Dave and his family live in Seattle, Washington. Dave commutes 12 miles round-trip from his home in Ballard to his marketing job at Real Networks, a streaming media software company best known at the consumer level for RealPlayer. (Bicyclists save around $10/day on a round-trip 10-mile commute. Commute Solutions, 2011.) Biking is the family's main mode of transportation which was instilled in Dave as a child by both his mother and father. Dave feels riding his bike is the most enjoyable way to get around the city. Dave, his wife Alyssa and their children Margreta (3) and Oscar (1) have nine bicycles, including Margreta's "push bike" and a Bicycle Trailer for Oscar, and no garage. Studio Shed's online configurator, price point and aesthetic gave Dave the confidence to purchase a DYI kit. "A cost effective way to add space" as Dave puts it.
Deb and her partner Erica live in Tucson, Arizona. Deb is a pathologist and professor at the University Medical Center and Erica is a consultant in the tourism industry. Originally from New York State, Deb moved to New Mexico when she was 17. This same year she was introduced to open space and mountain and road biking. Erica, formerly a fly fishing guide, shares Deb's passion for biking - road or dirt. Their favorite road ride is the McCain loop and for dirt, the Sonoran Desert's "24 Hrs in the Old Pueblo". Before Studio Shed, Deb and Erica stored their six bikes - townies, mountain and road - in the guest room of their 1400sq. ft. house. Their 10' x 12' Studio Shed was "very reasonable. Our neighbors built a shed from the ground up and the cost was the same (as our Studio Shed), but they spent much more time designing, preparing, and installing" explained Deb.
Marla Vender Rasmussen lives in Chicago, Illinois with her husband Trey, son Parker (7) and their Aussiedoodle, Robin. They're an active family with ample equipment which was stored in a tent in the backyard. They love to snowboard, climb, jump off of things, row, paddle and bike. Trey, an avid biker, whittled down his stable of bicycles to three as they embarked on the idea of designing and building a custom shed which they soon learned would cost as much as a two-car garage. Eventually, with one random online search they found Studio Shed. They manipulated the online configurator and watched their affordable dream unfold in a matter of minutes to a 6' x 12' space with Collins and metal siding, clestory windows, and Marla selected colors to complement our sacred outdoor space.
Aside from reaching nirvana on a bicycle, what each of these families have in common is a home that suits their lifestyle with a small footprint on the land, the need for extra storage space, and no desire to remodel. Dave, Marla and Deb each found Studio Shed through an organic online search. They were looking for something functional and attractive, while opting out of the big box store selection.
STUDIOSHED® ships nationally. Customers can install their Studio Shed themselves or select Studio Shed's Pro Installation team at $450 and up for a one to two day installation. Do-It-Yourself-Kits start at $4900 and you can choose your own size (from 6'x 8' to 16' x 60') with a 20-color palette. Studio Shed's 100% solar built prefabricated panels use a variety of green building materials: FSC Certified Collins Siding, recyclable aluminum-frame windows and Low-VOC paint. The complete structure is engineered with absolute minimum waste.
STUDIOSHED® - an innovative take on traditional backyard fixtures,. More than just a shed – it's an extension of your home with a variety of uses: an office, an art studio, a kid's playroom, or a place to store your favorite bike(s).
###