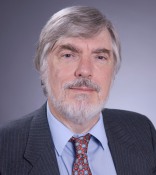 He received the Mills Award "for practical and fundamental contributions to software and hardware reliability with seminal contributions to computer security, fault tolerance, and formal methods."
Los Alamitos, CA (Vocus/PRWEB) April 19, 2011
John Rushby, a program director and SRI Fellow with SRI International's Computer Science Laboratory, is this year's recipient of the IEEE Computer Society Harlan D. Mills Award, which recognizes sustained contributions to information science theory and practice.
Rushby leads the research program in formal methods and dependable systems at SRI International in Menlo Park, California. He received the Mills Award "for practical and fundamental contributions to software and hardware reliability with seminal contributions to computer security, fault tolerance, and formal methods."
Rushby joined SRI in 1983 and served as director of its Computer Science Laboratory from 1986 to 1990. Prior to that, he held academic positions at the universities of Manchester and Newcastle upon Tyne in England. He received BSc and PhD degrees in computing science from the University of Newcastle upon Tyne in 1971 and 1977, respectively.
His research interests center on the use of formal methods for problems in the design and assurance of safe, secure, and dependable systems.
Rushby is a former associate editor for Communications of the ACM, IEEE Transactions on Software Engineering, and Formal Aspects of Computing, and was recently a member of a National Research Council study that produced the report "Software for Dependable Systems: Sufficient Evidence?"
Established in Harlan D. Mill's name, the award recognizes researchers and practitioners who have demonstrated longstanding, sustained, and meaningful contributions to the theory and practice of the information sciences, focusing on contributions to the practice of software engineering through the application of sound theory. The award nomination requires a minimum of three endorsements.
The award, which was first awarded in 1999, consists of a $3,000 honorarium, museum-quality memento, and a possible invited talk during the week of the annual International Conference on Software Engineering (ICSE), co-sponsored by IEEE Computer Society Technical Council on Software Engineering (TCSE).
Bertrand Meyer received the Mills Award in 2009 "for practical and fundamental contributions to object-oriented software engineering, software reuse, and the integration of formal methods into the above." Click here for the full list of recipients.
The IEEE Computer Society awards program honors outstanding technical achievements, innovation, and service to the computer profession and to the society. Award and nomination information is available at http://www.computer.org/portal/web/awards.
About the IEEE Computer Society
With nearly 85,000 members, the IEEE Computer Society is the world's leading organization of computing professionals. Founded in 1946, and the largest of IEEE's 38 societies, the Computer Society is dedicated to advancing the theory and application of computer and information-processing technology. The Society serves the information and career-development needs of today's computing researchers and practitioners with technical journals, magazines, conferences, books, conference publications, certifications, and online courses. For more information, visit http://www.computer.org.
###