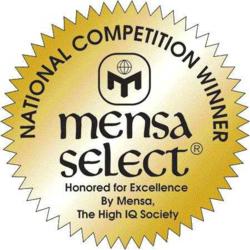 "You don't have to be a genius to enjoy this year's Mensa Select winners, but be prepared to have your mind teased while being entertained in the process!"
Arlington, Texas (PRWEB) April 18, 2011
After two days of nonstop, board game action in Albany, N.Y., American Mensa, the high IQ society, selected five Mensa Select winners at its 2011 Mind Games event. There were 58 entries in this year's competition, but only these five will have the honor of displaying the coveted Mensa Select seal. This year's Mensa Select games are:
InStructures: This is an exciting construction-themed game. (Jane's Games, http://www.janesgames.com)
Pastiche: Explore the paintings, palettes, and pasts of artists in this unique and challenging game for the whole family. (Gryphon Games, http://www.freddistribution.com)
Pirate versus Pirate: Pirates have discovered an island brimming with treasure; conquer the island by capturing the gold and silver, or by eliminating enemy pirates. (Out of the Box Publishing, http://www.otb-games.com)
Stomple: Outwit your opponents by stomping their marbles before they stomp yours! (GaZima Games, http://www.gazimagames.com)
Uncle Chestnut's Table Gype: An abstract strategy game with a random element (Eternal Revolution, http://www.eternalrevolution.com)
"Mensa Select games are fun, challenging games," said Greg Webster, Chief Judge of this year's Mind Games event. "You don't have to be a genius to enjoy this year's Mensa Select winners, but be prepared to have your mind teased while being entertained in the process!" For more information, or to purchase this year's Mensa Select games, log on to http://www.mindgames.us.mensa.org.
American Mensa is an organization open to anyone who scores in the top two percent on an accepted, standardized, intelligence test. The organization has more than 57,000 members in the United States and more than 110,000 members around the world. Members of Mensa attend local and national events, join special interest groups such as astronomy and philosophy, and help out in their communities through various projects. For more information about Mensa, or to apply for membership, visit http://www.us.mensa.org or call (800) 66-MENSA.
###