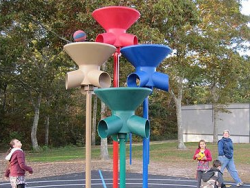 Tampa Bay, FL (Vocus/PRWEB) April 20, 2011
Nature-inspired school playground equipment from Landscape Structures Inc., a Delano, Minn.-based commercial playground equipment manufacturer, was installed at Booker T. Washington Elementary School in Tampa, Fla. Nearly 100 elementary and middle school principals came together on April 7, and installed the playground equipment in just four hours. The nature-inspired playground equipment was designed to encourage learning through play, and will be used as an outdoor learning environment.
The playground build was part of the National Association of Elementary School Principals' (NAESP) annual Community Service Day during the Association's Annual Convention and Exposition. The principals installed the nature-inspired school playground equipment to demonstrate their commitment to volunteerism and shaping the long-term impact of school improvement efforts. The Community Service Day was sponsored by NAESP and commercial playground equipment partner Landscape Structures, with in kind support from Growums.
This is the third year that Landscape Structures has sponsored the Community Service Day in conjunction with NAESP and the organization's annual convention and exposition. Learn more about Landscape Structures' partnership with NAESP and get more information on nature-inspired playground designs.
# # #