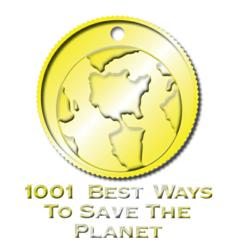 Los Angeles, CA (Vocus/PRWEB) April 19, 2011
1001BestWays.com, where people go to share their best ways of handling life's biggest challenges, announces its annual Earth Day Guide to the Best Ways To Save The Planet, presented unedited from actual user submissions.
Ten Best Ways To Save The Planet
1. A Tiny Roof Garden
"It isn't much, but I have about 10 square feet of flat roof space outside of my apartment. I decided to plant some "food" plants--tomatoes, peppers, tomatillos, cucumbers, lettuce and onions. It is such a success that I bought some mason jars and canned 10 quarts of tomatoes, 23 pints of dill pickles and was able to freeze a LOT of green and red peppers...helping my budget AND the environment by avoiding transportation of veggies. "
2. Be The Designated Recycler At Parties.
"I offer to take the recycling home with me when I attend parties at the homes of friends and family. I already am dropping off the recycling from my own household in the near future, so it doesn't add much extra effort for me, and the number of bottles, cans, and paper from a large party really add up. "
3. Capture And Re-Use Cold Water.
"I wash my hair daily in our laundry tub and need to first run the water until it gets warm. To conserve water, I capture the running cold water into an empty gallon water jug until the water heats up. I reuse the saved water later in my toilet tank by pouring the water into the toilet tank immediately after flushing the toilet, to refill the tank with my saved or recycled water. I reuse about 20-30 gallons of water per month. "
4. No-Trash Kids' Lunches.
"I pack my kids' lunches for school so that they don't have any trash to throw away. I use reusable plastic containers, real silverware, reusable drink containers and cloth napkins. I plan to cut each cloth napkin into 4 pieces (to make 4 napkins) because those things are ridiculously big for a little kid's face! "
5. Buy Used Stuff.
"I shop for used items whenever possible. This helps avoid unnecessary manufacturing and wasteful packaging, and keeps items that aren't worn out from entering the landfills. Oh, and it saves money, too! "
6. Change Your Light Bulbs.
"The most recent thing I did is change out every light bulb in the new apartment that I moved into. I bought 2 cases of energy efficient bulbs and replaced everything, from bathroom, to kitchen, to outdoors. My lamps already had them, so I was ok there. In my old place I noticed a small savings every month on the electric bill. In my new one, I hope to expect the same.
7. Teach Your Kids.
"My husband and I recycle as much as possible. It's been fun watching our 4 year old want to put the "trash" in the recycle bin. I guess we are making a good impression! "
8. Composting Is Fun.
"To save the planet my family and I have a composting bin in our backyards that we use to recycle all of our organic wastes. We then use the compost to fertilize trees and plants that we plant around the city. Its a lot of fun, and it saves the world a bit! "
9. Compost Coffee Grounds.
"I am a barista, we have a large volume of coffee grinds being produced everyday, this is also the case at my office job. I got in touch with several people who compost and have started a system of distribution to dispose of organic garbage such as the coffee grinds in an environmentally friendly way. since the volume is large it is useful to have a group of people so that we can distribute them amoung us. "
10. Make It A Game.
"In our home we play a "game" where we see how many things we can get done during the day without using power sources. We try to limit the amount of electric power we consume and by doing this cut down on our electric bill, as well as reduce our electric imprint. "
Every hour, on the hour, 24 hours a day, 1001BestWays.com presents a new Best Way to do something important like raise children, save money, improve your relationship, advance your career, improve your health, and even grow plants.
Every 42 days, 1001BestWays.com collects all of the Best Ways and publishes them in book form at Amazon.com, BarnesandNoble.com, and Kindle. Volume 2 is schedule for release in May 2011.
Amazon.com Reviews for 1001 Best Ways, Volume 1:
5.0 out of 5 stars
100 would have been enough, but WOW 1001 best ways?? good going!, April 6, 2011
By Health Nut "in Shape"
I found 1001 Best Ways when I was looking for gardening advise but I really didn't want a regular book because I have a lot of those. Some of it was pretty much what you'd expect about not overwatering, but I just loved the idea about using eggshells and bananas and coffee grounds as fertlizer because I'm trying to teach my kids to be more environmental.
So every morning now, after breakfast, we make a point of composting and that's so much fun for them. It's still pretty early in the growing season, but our plants do look better at least to me.
We also picked up some Earth DAy ideas in the Save The planet section that my son is going to use in his gradeschool project., so that 's a good thing.
5.0 out of 5 stars Great Book , written by real people, April 6, 2011
By Electro Nut
I read an article about 1001 Best Ways online a few months ago and just fell in love with the idea of it. If you haven't been, it's a website where readers submit their best ways of doing things. I've submitted 4 articles now and -- I admit it -- bought the book to see if any of them had made it! And, sure enough, one of mine is on page 64. But once I finished my little happy dance, I really started to read what the other 1000 people had submitted. And most of them were really good.
I really liked the chapter on cooking because it's so easy to get set in your ways and do the same things every week, every month. I also liked the chapter on pets because I recently lost a dog that had been part of my family forever.
As I was reading it, I kept thinking "Oh, this would be perfect for Renee" and "This completely reminds me of Amanda" and "My mother needs to read this". I know what they're getting for their birthdays! It really is a little something for everyone and a lot for me.
It's not perfect -- some of the articles are pretty obvious, but it's what real people write, complete with typos and bad grammar, so you have to cut them some slack. Can't wait for the next one.
5.0 out of 5 stars
Highly recommended., April 18, 2011
By Sara
So I was looking for Earth Day books to plan activities for my kids and a friend recommended 1001 Best Ways. And, sure enough, in the Best Ways to Save The Planet chapter, there are some really solid ideas. But I also really liked the Best Ways to Save Money and have been talking those over with my kids, too. And the Best Ways to Clean Chapter. It's all advice based on someone's actual life, so it's pretty valid and since it's someone else telling them and not me, I find that my kids are more likely to listen because God knows they never listen to a word I say! We read the Best Ways objectively and discuss them. "What do you think about X?" I'll say and then they'll come up with their own spin on it. It's really a good conversation starter and gets them to tell me things like, "Well, in school we learned this" or "My friend Allyson said that" without me having to pry it out of them. Highly recommended.
5.0 out of 5 stars
I am completely hooked on it., April 18, 2011
By P. Sam "KnowItAll" (Da Bomb)
(REAL NAME) Amazon Verified Purchase
My Aunt bought me 1001 Best Ways when I was accepted into college. Admittedly, I started reading it last week to procrastinate on my homework, but I got completely hooked on it. There's no beginning or end really, so I started on the relationship and romance sections which got me thinking about my bf who's on the football team so I read the sports section. Then I read the education section and that led me to the job section and before you know it, I'm thinking I really need to get back to my homework because I don't want to be the person stuck in a dead-end job because I didn't focus on my homework because I was too obsessed with whether or not a dumb jock was sufficiently romantic on our last date. It's all very real people doing real things and that's why it really got to me. Thank you, Auntie, it really was the best present I got!
5.0 out of 5 stars
1001 Best Ways is a really interesting idea that combines a lot of current Internet trends into one neat and tidy package., April 6, 2011
By S. Rosen "Sweet Tooth"
This review is from: 1001 Best Ways, Volume 1 (Paperback)
1. It's Crowd Sourced. See Wisdom of Crowds for a full explanation, but basically it's the idea that a group of people acting independently can come up with better results than an individual working alone. There are a lot of great examples of this like Who Wants To Be A Millionaire and simple guessing games.
2. It's Social Media. If you follow the 1001 Best Ways Twitter feed, you can actually get the entire book, free, 1 tweet per hour. It's also on Facebook and other social media sites and on 1001bestways.com.
The question then is: is it interesting to you and is it well-written? OK, that's actually two questions. But if you're interested in any of the following topics that 1001 Best Ways covers, then, yes, it is interesting:
01. Best Ways To Save Money
02. Best Ways To Raise Kids
03. Best Ways To Maintain Relationship
04. Best Ways To Travel
05. Best Ways To Save The Planet
06. Best Ways To Advance Your Career
07. Best Ways To Cook
08. Best Ways To Clean
09. Best Ways To Improve Your Health
10. Best Ways To Improve Your Education
11. Best Ways To Connect With The Divine
12. Best Ways To Accept Your Mortality
13. Best Ways To Celebrate The Holidays
14. Best Ways To Be Romantic
15. Best Ways To Be Creative
16. Best Ways To Be Beautiful
17. Best Ways To Raise Pets
18. Best Ways To Raise Plants
19. Best Ways To Be Happy
20. Best Ways To Cope With Family
21. Best Ways To Coach
22. Best Ways To Master Computers
23. Best Life Lessons
24. Best Ways To Have Fun
It's a pretty comprehensive list as you can see. So, on to the issue of quality. When 1001 Best Ways is good, it's very good but some of the articles are weak. This is to be expected, I suppose, since it's crowd-sourced. You take the good with the bad and the end result is surprisingly compelling.
In addition, since 1001 Best Ways is curated but not really edited, all of the original typos, misspellings, poor grammar, capitalization errors, etc., are included. You feel like you're reading the work of 1001 different people because the range of styles, voices, etc. is so wide.
5.0 out of 5 stars
This Book Sucked me in, Great Stuff, April 6, 2011
By Geeky Geek
My wife gave me 1001 Best Ways last week and kept nagging me to read it. So, in order to ensure domestic peace, I gave in.
I gotta admit that it sucked me in good.
It's a collection of 1001 little articles that readers submited to a website about 24 different topics like relationships, money, kids, sports, cleaning, etc., etc., etc. So you read one and then another and before you know it you've finished a chapter and started another.
And it's just people, you know, just telling you what matters. And their business is pretty much like yours or people you know. We've all got problems and we've all got ways of dealing with problems and when you string it all together its really compelling.
And the whole time I'm reading it, I'm like "I can do better than that" and "That's not how you do that" and next thing you know I'm on the site giving them MY ways to do stuff.
Like I said, I got sucked in. And I promised my blushing bride, the love of my life, that if I liked it, I'd write a review. (If I didn't, she had to wash my car.) So, here you have it. Buy the book. Read the book. Give the book.
###