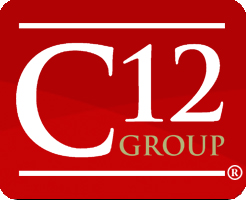 Greensboro, NC (PRWEB) April 21, 2011
Tom Rains, Huntsville, AL; Don Light, Bradenton, FL ; and David True, Grants Pass, OR, were recognized for their 10-Year Service Milestone during C12's annual Spring Workshop for Area Chairs which was held March 30-April 2 in Cincinnati. Seventy C12 leaders and spouses gathered for a special time of fellowship, prayer and sharing of best practices in serving C12s Christian clients across America. The three Chairs were recognized for their commitment to the C12 Group and the needs of Christian CEOs and business owners in the respective areas. "C12 is honored and privileged to have talented and committed colleagues like Tom, Don and David serving C12 members as they 'Build GREAT Businesses for a GREATER Purpose,'" said Don Barefoot, President and CEO of The C12 Group.
Buck Jacobs, a dedicated Christian CEO and author, founded The C12 Group in 1992. C12 is a growing network of more than 100 groups in 60 metro areas across America and is comprised of Christian CEOs and business owners who are seeking to grow both professionally and spiritually through interaction with other like-minded chief executives. Peer advisory meetings and one-on-one sessions are held to discuss a wide range of topics that challenge them to excellence, as servant leaders and as Godly stewards, in building healthy businesses.
If you would like more information on The C12 Group, please go to http://www.C12Group.com or contact C12's Home Office (336-841-7100 or info(at)C12Group(dot)com).
The C12 Group
4101 Piedmont Parkway
Greensboro, NC 27410
Phone: 336-841-7100
info(at)C12Group(dot)com
http://www.C12group.com
# # #