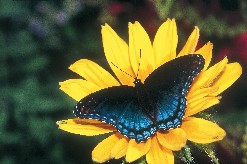 Wildlife need four main elements to survive, and you can provide them all in your yard
Reston, VA (PRWEB) April 19, 2011
May has been designated Garden for Wildlife Month and it's a great time to turn your yard into a sanctuary for wildlife. To celebrate National Wildlife Federation's 75th anniversary this year, the organization will plant a tree for every wildlife habitat that is certified by their organization during the month of May.
"Anyone can garden for wildlife, no matter how big your space, or how expert a gardener you are," said David Mizejewski, NWF Naturalist and spokesperson for NWF's Wildlife Habitat program. "It just takes a commitment to include a few elements in your landscape plan that will make wildlife feel at home."
Here are some wildlife habitat features you can learn more about on NWF's website http://www.nwf.org/gardenforwildlife
Trees for Wildlife
Making your garden wildlife-friendly can be as simple as planting a tree. Trees provide food, shelter and places to raise young for wildlife. Learn the best trees for wildlife, get design tips for gardening with trees and how-to information on tree planting.
Create a Butterfly Garden
There's more to a butterfly garden than pretty flowers. True, many butterflies feed on flower nectar, so blooming plants are a must for a butterfly garden. But not all butterflies do. Find out surprising ways to feed butterflies, how they can benefit from a mud puddle and how to get them to have their babies in your garden.
Wildlife and Vegetable Gardens
Wild animals can be a bit pesky when they invade your vegetable garden looking for an easy meal. Find out tips on protecting your produce and the surprising ways that wildlife and bountiful crops go hand in hand.
Slimy and Slithery Garden Wildlife
Bird and butterflies get all the love when it comes to wildlife gardening, but toads, snakes, bats and other "creepy crawlies" are just as important and need our help too.
Best Native Plants for the Garden
Native plants are the best pick for your garden if you're trying to attract birds, butterflies and other backyard wildlife. Find out some of the best ones that are better for the environment; require less watering and fewer pesticides, and are more tolerant to drought.
Beneficial Insects
Not all bugs are bad for the garden. In fact, without six and eight legged predators, your pest problems would be much worse. Find out more about some of the most beneficial insects and how to attract them.
Bird Gardens
Attracting birds to the garden is a rewarding activity for the whole family. Learn the best ways to attract and observe your winged friends. What plants provide the best food for birds? Which type of bird seeds attracts the most visitors?
Water Water Everywhere and Lots of Places to Drink
From bird baths to bogs and ponds, there are lots of ways to provide wildlife with water. But many gardeners don't know how to tackle this wildlife habitat essential. Explore the various options and select the best water source for your landscape.
More information on how to create a wildlife habitat and have it certified by National Wildlife Federation can be found at http://www.nwf.org/gardenforwildlife. Gardeners who certify their yards receive a one-year subscription to Birds and Blooms magazine and a one-year membership in the National Wildlife Federation which includes a subscription to National Wildlife magazine.
Media Contact: Mary Burnette, Burnette(at)nwf(dot)org, 703-438-6097
###