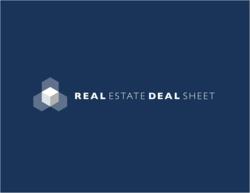 It's the first system that works for users by suggesting deals based on needs and filling those needs easily and quickly.
Dallas, TX (PRWEB) April 20, 2011
Filling a major gap among commercial real estate industry web sites, which generally focus on just listed, completed deals or tombstones, RealEstateDealSheet.com (http://www.RealEstateDealSheet.com), is a new interactive website for professionals prospecting for new deals, seeking connections with other qualified commercial real estate colleagues or receiving deal suggestions. Real Estate Deal Sheet was launched by Dan Slaven, Dallas-based president and CEO, who plans to build a global network of users.
The secure, member-based site provides real time, information to developers, architects, lenders, equity providers, brokers, owners and tenants and leasing agents to view profiles, qualifying all potential connections and making connections tailored to individual deal needs.
"RealEstateDealSheet.com users receive a free 45-day trial, can sign up in minutes and will find or launch deals in virtually every category of commercial real estate, including office, health care, hotels and resorts, multi-family, retail, industrial/warehouse, senior housing, student housing, single tenant, tenant driven deals and land among others. And the site offers a suite of real-time analytics and search capabilities to simplify planning, tracking and measuring commercial real estate deals important to each individual user," according to Slaven.
RealEstateDealSheet.com features deals in their early stage, where an interested member can best create value. The site builds qualified connections that are secure, based on individual profiles, and accessible by other commercial real estate professionals. Posted "track record" profiles allow users to review the credentials and history of fellow professionals and invite them into a user's inner circle at his or her discretion. And there are opportunities to review invitations from other professionals about deals they are putting together.
Slaven, who has been a partner in Dallas-based Silverado Interests since 2008 said that what makes Real Estate Deal Sheet unique is in all the ways it enables commercial real estate professionals to create deal flow. "It's the first system that works for users by suggesting deals based on needs and filling those needs easily and quickly," Slaven said. "Our users provide criteria and the site aggregates information to suggest deals based on data that has been made public."
Users may prospect the system by following invaluable recommendations from individual commercial real estate associates. Both deals and associates rotate through a user's individual page and once connections are made the user receives real time updates on deals and network activity while still having the option to update and control connections and viewers of deals.
Slaven pointed out that in its first month, the site generated more than 230 connections, posted nearly 100 deals, attracted more than 160 unique visitors and suggested nearly 10,000 deals. New members have extended more than 1,800 invitations and there were more than 500 visits in a single day.
Slaven added that RealEstateDealSheet.com members can match needs through the site by allowing users to add deals they want to market for sale, lease, refinance or offer for debt and equity. Users create connections by building a network, marketing to the masses or selectively marketing to existing or new associates. Privacy controls always allow users to share based on who they determine meets their needs.
"We couldn't be more excited about the potential of our site," Slaven said. "The system is easy and its capabilities are sophisticated and diversified. In just over a month, hundreds of real estate professionals and others related to the success of a deal have been creating more deal flow at all stages based on individual needs."
About RealEstateDealSheet:
RealEstateDealSheet.com is a web-based platform designed for the sharing of real-time commercial real estate deal information. The membership-based site allows commercial real estate professionals to search and view details for deals at every stage, from development through acquisition to closing. For more information, visit http://www.realestatedealsheet.com.
###