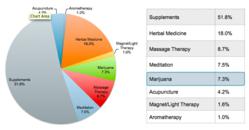 In social media we're seeing more patients discuss using marijuana as an effective treatment option across many therapeutic areas
Philadelphia, PA (Vocus/PRWEB) April 19, 2011
Over 7% of online patient discussions about alternative treatments mention marijuana as an effective option, according to a new study released today by ListenLogic, a social media intelligence firm. Findings from the study show that – from arthritis to ADHD and diabetes to depression – patients discuss using marijuana to treat a wide variety of medical conditions.
"We all know that medical marijuana is currently being used to treat conditions such as neurogenic pain, movement disorders, and glaucoma," said Mark Langsfeld, Founder & CEO of ListenLogic. "However, in social media we're seeing more patients discuss using marijuana as an effective treatment option across many therapeutic areas, including specific forms of epilepsy, arthritis, and even schizophrenia."
The personal anonymity afforded by social media is allowing for new research to occur regarding alternative treatment options, as patients feel less inhibited to share how they're treating certain conditions. In an ADHD study conducted last quarter, ListenLogic found that many ADHD and mood disorder patients were hiding their marijuana use from their doctor.
"We also see patients discussing how to access marijuana to treat their condition and seek advice from other online users regarding its legality," said Vince Schiavone, co-founder & Chairman. "That's how desperate they are to experience relief from their conditions. And this comes up consistently across a wide variety of therapeutic areas."
According to the study, 7.3% of patients across 12 therapeutic areas publicly cite marijuana as an alternative treatment option while 18% cite herbal medicine. Acupuncture is cited by 4.2% and aromatherapy by 1%. The study was based upon on analysis of over 30,000 online, patient-level conversations across different medical conditions within which alternative treatments were mentioned.
To view the complete findings of the study "Online Patients: Alternative Treatment Options", please visit http://www.listenlogic.com/onlinepatients.
About ListenLogic
ListenLogic is a leading social media intelligence and analytics company that helps Global 1000 companies manage their reputation, engage with customers and drive innovation. ListenLogic's Social Listening Intelligence Center (SLIC) provides enterprises with real-time listening and response to manage the daily corporate threats and outreach opportunities that emerge from social media. ListenLogic's Consumer Insight solutions deliver deep understanding of consumer mindsets to drive product and marketing innovation. ListenLogic Health, a dedicated help division, specializes in providing social media intelligence to pharmaceutical, health and wellness companies. ListenLogic is headquartered outside of Philadelphia, PA and has offices in San Jose, CA. For further information, visit http://www.listenlogic.com | http://www.listenlogic.com/blog, or http://twitter.com/listenlogic.
Media Contact:
Chris Karnes
For ListenLogic
ckarnes(at)listenlogic(dot)com
267.544.9647
# # #