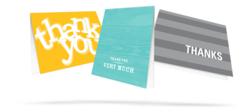 "The power of saying thank you is so strong in relationships and in the 'real world'. We want to encourage graduates to start this practice, if they haven't already, because it will truly benefit them in the long term."
Mankato, MN (Vocus/PRWEB) April 18, 2011
For magnificent milestones like graduation, email just won't cut it. Nothing expresses maturity and thoughtfulness like personal notes, written out on nice cards and stationery. This is a lesson that will serve a student well throughout life, helping make a memorable impression on employers and colleagues as well as friends and relatives.
To help students ace this lesson, Pear Tree Greetings, a top manufacturer of personalized cards, is offering six stylish thank-you cards for $1.00, but only on April 20 and 21, 2011.
Simply visit http://www.peartreegreetings.com/content.jsp?pageName=one-dollar-thank-you-cards, enter your email address, and hit 'get my cards' and you will receive six thank-you cards for one dollar. You don't even pay for shipping.
"Pear Tree Greetings has a number of stylish thank you notes for grads that are unique and affordable," said Ojala. "The power of saying thank you is so strong in relationships and in the 'real world'. We want to encourage graduates to start this practice, if they haven't already, because it will truly benefit them in the long term."
Please visit http://www.PearTreeGreetings.com to get graduation offer details, and to view the latest graduation Thank You cards, graduation invitations and other unique products from Pear Tree Greetings.
About Pear Tree Greetings
Pear Tree Greetings is a top manufacturer of personalized cards offering an array of stationery for a variety of occasions including Save the Date cards, Christmas cards, graduation invitations and birth announcements. It also hosts a blog that presents new product ideas, highlights personalization tips and allows consumers to share ideas. Winner of the SheKnows 2010 Parents' Choice Award, Pear Tree's custom greetings are made simple, affordable and absolutely keep-worthy. For more information about the company, please visit http://www.peartreegreetings.com
###