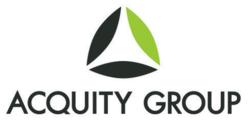 Chicago, IL (Vocus/PRWEB) April 19, 2011
Acquity Group, a world-leading multi-channel commerce and digital marketing company, today announced its partnership with Adobe Systems Incorporated to create and deliver a new generation of enterprise solutions designed to enrich the customer experience.
Adobe has already taken the first step toward enabling companies to manage powerful content and customer interactions through its web experience management (WEM) solution, which features CQ5 from Adobe. Acquity Group has nearly a decade of experience with CQ5 software, having been an integration partner with Day Software (Adobe acquired Day Software in 2010) since 2002. The company has developed award-winning CQ5 solutions for Fortune 500 clients around the globe, and focuses on delivering innovative, integrated digital brand experiences across platforms.
"Companies are being bombarded with new channels and forums that represent both an opportunity and a challenge," said Andy Peebler, Senior Vice President at Acquity Group. "While mobile and social provide new and exciting media in which to engage with customers, it can be difficult for businesses to drive consistency and contextual relevance in a way that doesn't break the bank. Too often this can translate into companies engaging in silo solutions - one each for mobile, web and call center - which can lead to heavily disjointed customer communications, expensive systems integrations, or both."
"Our partnership with Adobe gives us the opportunity to apply our CQ5 best practices and digital channel expertise to Adobe's enterprise-level technology suite. We're excited to offer organizations a unified, comprehensive CEM platform with which they can improve - and evolve - how consumers engage with their brand," he added.
"Adobe and Acquity Group passionately share a vision in creating personalized, meaningful customer experiences that greatly enhances customer loyalty and brand equity," said Ed Van Siclen, Vice President of Technology and Partner Solutions at Adobe. "We are pleased to have Acquity Group working with us to help businesses radically improve customer interactions."
According to recent analyst reports, there is emerging demand for this type of offering, as new tools will focus on developing appropriate capabilities for marketers to identify the right channel for customer connections, empowering them rather than giving them the next cool app. Furthermore, this will be complemented by content syndication across channels, with marketers focusing to bring experiences to customers in the channel and at the time they prefer.
Acquity Group will be participating in Adobe's "Experience Delivers" CEM tour this spring, with events in San Francisco, Washington D.C, Chicago and New York. The events will review strategies for managing the brand experience through every customer touch point. Learn more here.
About Acquity Group:
Acquity Group is the world's leading multi-channel commerce and digital marketing company, creating award-winning digital experiences for global brands. Our multi-disciplinary approach brings together strategy, design, and technology to create brand-unique experiences that build unbreakable customer relationships. Acquity Group is headquartered in Chicago, with offices across the U.S. To define a unique perspective for your business, contact Acquity Group at http://www.acquitygroup.com.
###