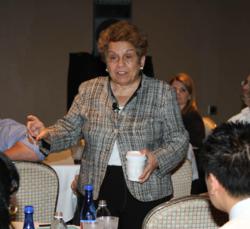 Atlanta, GA (PRWEB) April 27, 2011
Dr. Donna E. Shalala, former Secretary of Health and Human Services under President Bill Clinton, and current President of the University of Miami, was the keynote speaker at Connolly's 3rd Annual Healthcare Recovery Audit Summit. Expounding on one of her favorite topics, Dr. Shalala commented on the influences healthcare reform has had on the U.S. Her perspective set the stage for Connolly's Healthcare Summit discussions and presentations of the many issues facing healthcare providers today.
Taking place from March 2 - 4 in Miami Beach, Florida, the Summit was attended by nearly 50 professionals from 17 of the largest healthcare companies in the U.S.
The purpose of the Summit was to share information and best practices, as well as to talk about the changing landscape of healthcare. "A major change from last year's Summit is that we really tried to involve our clients more in the presentations and discussions," said Connolly COO Libby Alexander. To that end numerous clients gave presentations ranging from "The Implications of Recovery Audit on Your Provider Networks and Relations," to "Specialty Pharmaceuticals."
Connolly presenters included Jim West, VP Data Services, who focused on the impact data mining tools have on recoveries, and Chad Janak, VP Healthcare, who explained the high profile Medicare Recovery Audit Contractor (RAC) program being administered under the auspices of the Centers for Medicare and Medicaid Services (CMS).
CMS awarded Connolly Healthcare one of the contracts to provide recovery audit services mandated by the Tax Relief and Health Care Act of 2006. Connolly is auditing the states of: AL, AR, CO, FL, GA, LA, MS, NC, NM, OK, SC, TN, TX, VA, WV and the territories of Puerto Rico and U.S. Virgin Islands, which make up 39% of the United States.
Connolly Healthcare services include contract compliance, coordination of benefits, medical chart review, pharmacy audit, provider billing compliance and retro-termination.
About Connolly - Headquartered in Atlanta, Georgia, with offices throughout the US, Canada and the UK, Connolly Inc. is the world's largest privately-held provider of recovery audit services. With more than 800 employees serving over 100 clients, Connolly reviews over a trillion transactions annually and recovers nearly a billion dollars a year in overpayments for its clients through its three lines of business - Healthcare, Retail and Commercial. In addition, Connolly reviews contracts for non-compliance and offers process improvement recommendations that mitigate future financial losses. Connolly was founded in 1979 and currently provides services for 19 of the top 20 U.S. retailers and seven of the top eight healthcare payers. Connolly maintains a 97% customer satisfaction rating, is consistently listed on the Inc. 5000 list of the fastest-growing, private companies in America, and has twice been named "One of the Best Places to Work in Connecticut." Connolly is a trademark of Connolly, Inc. Copyright © 2011
For additional information, please visit Connolly at http://www.connolly.com. Please follow us on Twitter and LinkedIn!
# # #