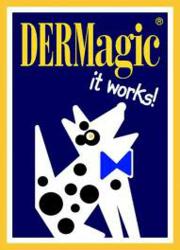 Our mission is two-fold, create products that help pets and conduct business in a way that promotes responsibility for the environment. - Dr. Adelia Ritchie, founder of DERMagic
Seattle, WA (PRWEB) April 19, 2011
If you've ever needed a good reason to give your pup a bath, DERMagic Skin Care for Animals (http://www.DERMagic.com) has one – it helps save our environment. To celebrate Earth Day this year, DERMagic announced that over 700 native plants and trees have been planted as a result of the successful sales of its organic shampoo bars. In partnership with Oregon Soap Company who makes the company's shampoo bars, a new tree is planted for every ten DERMagic shampoo bars sold.
Launched in 2009, DERMagic's Certified Organic Shampoo Bars have become a top selling product, providing groomers and pet parents with an all-natural, easy, gentle, and effective way to thoroughly cleanse pets while simultaneously relieving dry, itchy skin. Handmade with certified organic coconut, castor, sunflower, jojoba and olive oils, and irresistibly scented by essential oils, the bars are available in four options, rosemary & lavender, peppermint & tea tee oil, lemon & eucalyptus, and the newest addition, the Skin Rescue shampoo bar mirrored after the line's #1 selling Skin Rescue Lotion for treating active skin issues.
DERMagic selected Oregon Soap Company to manufacture its shampoo bars based on its reputation and like-minded commitment to environmentally sound business practices. Since 2007, Oregon Soap Company has planted more than 17,000 native trees or plants. The soap company's founder, Sat Atma Singh, got the idea because he loves the outdoors, and thinks planting trees can have a huge, long term impact on the environment for a relatively little amount of money.
And it's true – trees do have a big impact on the environment. Oregon Soap Company sponsors local plantings in the Portland area, where the trees are attributed to intercepting 25 million pounds of air pollutants and a half a billion gallons of storm water each year. In addition, they've sponsored tree plantings internationally in Haiti, India and Central America.
"Our mission is two-fold, create products that help pets and conduct business in a way that promotes responsibility for the environment," said Dr. Adelia Ritchie, founder of DERMagic. "We are incredibly proud to announce that 700-plus trees were planted as a result of the popularity of our shampoo bars. It's an added benefit for customers too who get an amazing product for bathing pets while contributing to rebuilding nature."
DERMagic Skin Care for Animals is one of the top companies providing all-natural, proven and sustainable solutions for pets with skin conditions. The company's products are made in the USA and packaged in recycled and recyclable materials. DERMagic products can be purchased online at http://www.DERMagic.com and in select retail shops, grooming salons and veterinarian offices throughout North America.
About DERMagic Skin Care for Animals, Inc.
DERMagic, an award-winning breakthrough product line for animal dermatitis, uses only the finest all natural anti-bacterial and anti-fungal ingredients formulated with certified organic whole-leaf aloe Vera, nutritional vitamin-E, lanolin, beeswax and soothing natural oils. DERMagic products are currently available online at http://www.DERMagic.com, and in finer pet shops and salons throughout North America. All DERMagic products are guaranteed safe and effective, contain no steroids, antibiotics or harsh chemicals, and are made in the USA.
Media Inquiries
REVOLUTION PR for DERMagic
Shauna Nuckles
208-819-2859| shauna(at)revolutionpr(dot)com
Or
Jennifer K Ritchie
206-932-2454| jennifer(at)revolutionpr(dot)com
###