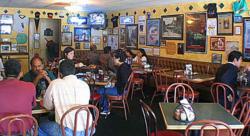 Here at Pizz'a Chicago we really enjoy the part we can play in helping beat cancer through good food and service
Santa Clara, CA (Vocus/PRWEB) April 19, 2011
On April 19, 2011 Pizz'a Chicago, located in Santa Clara, will be hosting a fundraising event to support the American Cancer Society Relay For Life team in Santa Clara. Relay For Life is an event that gives participants a chance to celebrate the lives of people who have battled cancer, remember loved ones lost, and fight back against the disease. Pizz'a Chicago will be donating 20% of proceeds from each meal ordered from 11am-10pm on that day.
"Here at Pizz'a Chicago we really enjoy the part we can play in helping beat cancer through good food and service," says Art Harris, proprietor of Pizz'a Chicago.
At Relay for Life, teams of people camp out at a local high school, park or fairground and take turns walking or running around a track or path. Each team is asked to have a representative on the track at all times during the event. Because cancer never sleeps, Relays are overnight events up to 24 hours in length.
The donations from this Santa Clara cancer fundraiser go towards helping the American Cancer Society achieve their mission, and celebrate a world with less cancer and more birthdays. Pizz'a Chicago offers a way to support the cause by coming into the restaurant and enjoying a delicious meal. Besides pizza, their menu features a wide variety of options to choose from, and they offer a great family atmosphere with outdoor seating, and welcome furry friends.
For more information about the Santa Clara pizza fundraiser for the American Cancer Society, or any of Pizz'a Chicago's specials or services, call them at (408) 244-2246, view them on the web at http://www.pizzachicagoonline.com or visit their restaurant at 1576 Halford Avenue in Santa Clara.
About Pizz'a Chicago
Pizz'a Chicao is an Italian restaurant that specializes in Chicago-style deep-dish gourmet pizza. They offer dine-in, takeout, and delivery options and have locations in San Jose, Palo Alto, and Santa Clara. Since 1991, their goal has been to serve the highest quality gourmet deep dish pizza at a reasonable price, in a fun and interesting atmosphere.
###