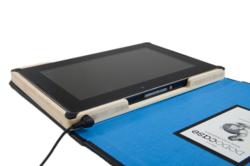 With our classic 'book' exterior, the DODOcase is a natural fit for professionals ...
San Francisco, CA (PRWEB) April 19, 2011
DODOcase today announced that in addition to their popular product line of iPad and Kindle cases and accessories, they have expanded their portfolio to include a case for the BlackBerry® PlayBook tablet, available for purchase immediately and just in time for launch. The DODOcase, a case unmatched in style and quality, has given new life to the art of traditional book binding by adapting it to the world of tablets and e-readers, and offers a professional exterior aesthetic for any device. The DODOcase for the BlackBerry PlayBook tablet is supported by the official Built for Blackberry program.
"DODOcase is thrilled to be part of the Built for BlackBerry program," said Craig Dalton, co founder and President of DODOcase. "With our classic 'book' exterior, the DODOcase is a natural fit for professionals, and our custom abilities allow any business to personalize their cases for the entire team!"
"We are always excited to apply our book binder's artisan abilities to new products, and when we saw the BlackBerry PlayBook we knew it would be a fun device to build a DODOcase for," added Patrick Buckley, co founder and CEO of DODOcase. "The world can be a fast paced place, and for those that choose to use it, we hope that the DODOcase serves as a useful representation about the art and happiness that is found in finely built objects. My Grandpa used to say 'They don't make things like they used to,' and I am happy to say that at DODOcase, we DO make things just like they used to."
The DODOcase design has been updated to take full advantage of the BlackBerry PlayBook tablet features. Every DODOcase has its own unique character as each case is handmade by local artisans in San Francisco using bookbinding techniques developed hundreds of years ago. The DODOcase for the PlayBook is available in red, sky blue, green, or charcoal lining for $59.95. The DODOcase is also available for the iPad, iPad2, and Kindle 3. For more information about all of our products, or to purchase a DODOcase, please visit http://www.dodocase.com.
ABOUT DODOCASE:
The DODOcase philosophy is simple. Manufacture things locally and help keep the art of bookbinding alive, and off the extinction list where the namesake Dodo bird still resides, by adapting bookbinding techniques to a world of e-readers and iPads. Handmade and produced locally in San Francisco, CA by professional bookbinders, the DODOcase is characterized by unmatched style and quality that has won fans, from tech celebrities to the Hollywood set, the world over. The DODOcase launched day one with the iPad in April of 2010, and expanded to include a case for the Kindle 3 in November 2010. Most recently, DODOcase launched the BOOKback, a back that lends the feeling and familiarity of a book to your iPad or iPhone4 as well as a case for the iPad2 in March 2011. For more information, or to purchase a case, please visit the website at http://www.dodocase.com.
ABOUT RIM'S BLACKBERRY PLAYBOOK TABLET:
©2010 Research In Motion Limited. All rights reserved. BlackBerry®, RIM®, Research In Motion®, and related trademarks, names and logos are the property of Research In Motion Limited and are registered and/or used in the U.S. and countries around the world.
###