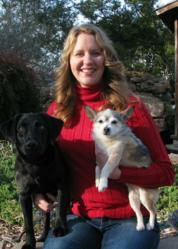 Dallas TX (Vocus/PRWEB) April 19, 2011
Dr. Rebecca Westbrook brings proven techniques to prevent dogs weight gain. As a veterinarian dedicated to compassionate pet care in Dallas TX, she shares with the public cutting-edge discoveries when it comes to learning the causes of weight gain.
With today's information rich media outlets and advanced technology, a pet owner may become overwhelmed and inundated with advice especially when it comes to dog obesity. Dr. Westbrook believes that it is important to question the soundness of advice and question the science behind it before a pet owner implements any type of pet hospice care that facilitates weight loss for dogs.
One of the biggest questions that an animal owner will often ask is how much weight their dog can stand to lose and in what time frame.
In an interview with her publicist, Tatyana Gann, Westbrook states that "A dog may safely lose 1% to 2% of their body weight on a weekly basis". However, she is quick to point out that it is important to check with your veterinarian before embarking on a weight loss program.
As a Doctor of Veterinary Medicine that specializes in hospice care, Westbrook believes that if a dog owner keeps their pet at a healthy and sound weight that it will prevent long term health problems. In fact, Dr. Westbrook gives six easy tips to help a dog lose weight and prevent obesity.
Dr. Westbrook's diet plan for dogs suggests the following techniques be followed on a daily basis:

Limit the amount of food that your dog consumes on a daily basis.
Cut back on pet food by 20% by using a measuring cup.
Feed multiple small meals to your canine.
Feed green beans to your pet as a treat as normal store bought treats are high in calories.
Use a food dispensing ball to encourage exercise while eating.
Increase your dog's exercise by starting with short walks and then increasing the distant over
time.
Following these recommendations, an owner can be assured they are following veterinarian prescribed weight loss for dogs. If after using these tips and a canine is not losing weight than Dr. Westbrook believes a veterinarian visit is necessary to check for underlying hormonal issues.
Savvy canine owners will take advantage of Dr. Westbrook's pioneering tips on weight loss for dogs.
To set an appointment with Dr. Rebecca Westbrook, visit her website today at http://www.lovingpawshousecalls.com/.
For compassionate pet owners who want to understand the process of hospice and euthanasia veterinarian services contact Dr. Rebecca Westbrook at http://www.lovingpawshousecalls.com
For media inquiries: Dr. Rebecca Westbrook is available for consulting, training, expert quotes and interviews.
Email:
Contact Publicist Tatyana Gann at smokinhotpr(at)gmail(dot)com phone: 615.354.7265
###