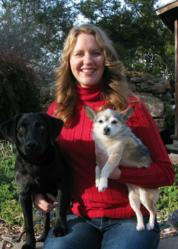 It is important to remember that pet first aid is not a substitute for veterinary care and that any first aid administered to your pet should be followed by professional care
(PRWEB) April 20, 2011
Dr. Rebecca Westbrook, a veterinarian servicing the greater Northern Dallas, Texas area joins other animal professionals in celebrating April, the Pet First Aid Awareness Month. Pet First Aid Awareness Month advocates the importance of learning first aid for pets.
It also encourages the public to be more aware of what they can do to help with an injured animal. Westbrook believes it is critical to understand pet first aid as knowing what to do in the first few minutes of a trauma can dramatically increase the odds of saving a pets life. In her years of veterinarian training, she has found that those who are trained in first aid for pets tend to respond quicker when there is an animal emergency because of their knowledge and skills.
In an interview with her publicist Tatyana Gann, Dr. Westbrook suggests that "animal lovers download an app to their cell phone that will give them instructions in the case of an emergency". She explains that while a phone call to an emergency veterinarian service is important; during those first few moments having critical care knowledge at your fingertips is essential.
As a veterinarian that focuses on hospice care, Dr Westbrook knows from firsthand experience how much pet owners need to know when dealing with a critically ill patient. With her hospice philosophy in mind, Westbrook educates all her clients with important tips to learn in studying pet first aid. She advocates gaining a clear understanding of these topics and potential life saving techniques:

Display veterinarian number in a handy and prominent place
Have pet first aid supplies available in a convenient location
Understand what to do if pet is suffering from poisoning, seizures, broken bones, bleeding, burns, and other urgent medical situations
Know where the nearest veterinarian service is when traveling with your pet
Although Westbrook champions pet first aid awareness, she states "it is important to remember that pet first aid is not a substitute for veterinary care and that any first aid administered to your pet should be followed by professional care".
Savvy pet owners will take advantage of Westbrook's mobile veterinarian clinic which provides an owner and their pets with the highest quality hospice care. "Loving Paws" compassionate service is one of the best in Dallas as seen by the highly satisfied customer testimonials on its site.
To set an appointment with Dr. Rebecca Westbrook, visit her website today at http://www.lovingpawshousecalls.com/
For media inquiries: Dr. Rebecca Westbrook is available for expert quotes and interviews.
Email: Contact Tatyana Gann
Publicist, phone: 615.354.7265
###