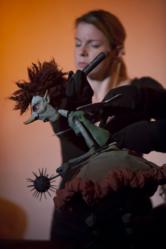 The intelligence and emotional roller coaster of this show is one I will never forget..." says Sue Matsuki of Cabaret Hotline Online "This show is literally a work of art.
New York, NY (PRWEB) April 21, 2011
Singer and puppeteer Alissa Hunnicutt, known for her sweet and spunky cabaret performances, is bringing her production, "THE KID INSIDE," to the Lower East Side for one night of music and theater on May 18, 2011, presented by Dixon Place.
Hunnicutt's The Kid Inside reminds her audience of an inevitable truth: the child you once were is still a big part of who you are. The same kid who is open and vulnerable enough to get really hurt, is also the one who remains an eternal optimist, telling you to get up and go on.
The Kid Inside is presented as a multi-media show featuring videos, six styles of puppetry—hand/rod, shadow, toy theater, table top, found object and marionette—and a repertoire of songs ranging from pop to country that promises to make audiences laugh and cry.
Alissa Hunnicutt's sweet and dirty show may feature puppets, but it is not for kids! The audience will experience emotions ranging from laughter to sadness during the immensely adorable performance by this dynamic and talented performer.
Avid cabaret and Broadway show enthusiasts looking for a theater experience that blends songs, patter, puppets and profanity—all in one single show—should not miss Alissa Hunnicutt's The Kid Inside.
"The intelligence and emotional roller coaster of this show is one I will never forget..." says Sue Matsuki of Cabaret Hotline Online "This show is literally a work of art."
The Kid Inside is being presented by Dixon Place as part of Puppet BloK, a series curated by Leslie Strongwater supported with generous funds from The Jim Henson Foundation. Puppet BloK features new works of puppetry, animation, music, and other innovative styles of performance by emerging and established artists from the NYC area. Branching out of Dixon Place's own mission statement to focus on experimental works, Puppet BloK provides an all-encompassing venue for alternative modes of storytelling.
Hunnicutt is joined by puppeteers Z Briggs, Honey Goodenough and Chad Williams, with Musical Director/Co-Creator Steven Katz, under the direction of Warren Kelley.
An accomplished performer, Alissa Hunnicutt's other projects include a series of toy theater country songs, and "Elements of Ophelia" a puppetry character study inspired by the Drei Lieder Der Ophelia by Richard Strauss.
The Kid Inside will be performed on May 18, 2011, at 7:30 PM at Dixon Place on 161A Chrystie Street (between Rivington and Delancey), New York, NY 10002. Tickets are available for $12 by calling 212-219-0736 or online, http://www.dixonplace.org.
About Alissa Hunnicutt
Alissa Hunnicutt is originally from Iowa City, Iowa and now lives in NYC. She began studying puppetry with John Tartaglia in 2005 and is now the resident puppeteer at Mount Sinai Hospital's KidZoneTV. She has been a featured performer at the O'Neill National Puppetry Conference and Great Small Works' International Toy Theater Festival. In addition to being a puppeteer, Alissa is also an accomplished voiceover actor and singer with a Master of Music degree in Opera from Manhattan School of Music.
For more information about Alissa's work and upcoming performances, visit http://www.AlissaHunnicutt.com.
###