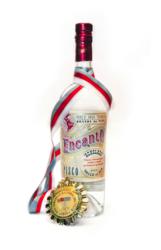 San Francisco, CA (PRWEB) April 20, 2011
Campo de Encanto, the award-winning Pisco brand, has doubled its harvest of grapes to meet increased demand for Pisco around the world. 2011 is an important threshold for Pisco, as demand for South America's oldest spirit has increased, quickly creating a global Pisco trend. Consumers will approach artisanal brands such as Campo de Encanto by testing its quality: Is it pure Pisco made 100% from grapes? How does it taste in a Pisco Sour?
When asked how he decides the grapes are ready for harvest, Carlos Romero, the Master Distiller for Campo de Encanto said, "It is simple: I walk the vineyard, I taste the grapes. If I can taste the Pisco in my mind, then I know the grapes are ready."
Romero began distilling Pisco in 1982, however the pressure for him to succeed this year is the highest it has ever been. In 2010, Campo de Encanto won the Gran Medalla de Oro for the Best Pisco of Peru, and then won again at the National Pisco Sour Championship held in February when bartender Fernando Melendez chose Campo de Encanto and won the Best Pisco Sour of Peru.
"To make the best Pisco, you need the best soil, dry weather, and to be close to the ocean," said Romero. "Here in the Ica Valley, we could have the best vineyards for distillation in the world. Encanto will continue to increase its production and keep its quality the best."
Cocktails from Latin America such as the Mojito and the Margarita have been extremely popular in the United States for over a decade. The Pisco Sour, the Pisco Punch and the Cusco Mule are the three cocktails driving consumption of Pisco in the U.S. "The Pisco Sour is Latin America's most elegant cocktail," said Peter Gugni, bartender and proprietor of the Bedford in Chicago, Illinois. In 2010, importation and sales of Pisco into the United States grew an astounding 101% in one year, making it the fastest-growing spirit in the United States.
For Romero, the fact that more people are drinking more Pisco means only one thing: he will continue to do what he loves best and produce award-winning Pisco, because next year people will be drinking Campo de Encanto Pisco in London and in Las Vegas, in Sydney and San Francisco.
ABOUT CAMPO DE ENCANTO PISCO
Everyone wants to drink better; everyone wants to know how to make a great cocktail. That's what motivates us. Campo de Encanto is a luxury spirit distilled from 100% grapes, founded by a wholly unique partnership: Duggan McDonnell, a San Franciscan Master Mixologist, Walter Moore, a Sommelier, and Carlos Romero, a Peruvian Master Distiller. Our Pisco is handcrafted in the Ica Valley, the origin of and home to the historic port of Pisco, Peru. Together we have produced a supple, white spirit harvested from old vine grapes, fermented, distilled, and masterfully blended entirely by hand. It is distilled only once: nothing added, no glycerine, no sugar. Not even a drop of water. Encanto is a return to purity in spirits, a vital ingredient in cocktails during this rebirth of the cocktail. It is a spirit that Sommeliers and Soccer Moms demand equally, calling for its smooth yet complex flavor profile of chocolate mint, jasmine and peach, with a hint of white pepper. More pure than vodka, with more kick than tequila, Encanto takes Pisco out of the blender and onto the top-shelf, its depth recalling forgotten recipes and new variations, in Peru and around the world.
In its inaugural year, Campo de Encanto Pisco won both the award for Best Pisco of Peru, and followed up this success by winning the Best Pisco Sour of Peru. Encanto is imported by Haas Brothers of San Francisco; it is distributed through Southern Wine & Spirits of New York, Illinois, Nevada, Arizona and California. For further information, please contact Duggan McDonnell at duggan(at)liquidthinktank(dot)com.
###