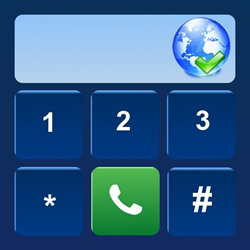 Manchester, United Kingdom (PRWEB) April 21, 2011
F-ROUTE recently released the latest update to their SIP VoIP Softphone for the iPhone. SessionTalk 3.1 features now include Dual Line, Call Waiting, Call conferencing as well as Transfer and Attended Transfer. This adds to an already impressive list of features including iOS4 Multitasking and Background support, Incoming call Push Notifications, Native contacts integration and a highly intuitive iPhone like user interface.
SessionTalk enables businesses as well as the mobile worker to use their iPhone as an IP-PBX extension, allowing them to access the same phone services and features as if they were in the office. The application can help boost worker productivity in a number of ways and show a fast return on investment. For example, a product development expert working from home or from a remote site would be able to join in a phone conference with managers at headquarters and collaborate on a new product design.
The highly intuitive iPhone like design will also appeal to the casual VoIP user as they are presented with an interface they are very familiar with. Also to help users who are new to VoIP there are video tutorials available on the company's website.
SessionTalk 3.1's other key features include:

Full SIP compliance, enabling use with any SIP-compliant server and hundreds of ITSPs.
Excellent audio quality with echo cancellation.
Unlimited multiple accounts.
Voicemail waiting indicator, detailed call history, favorites and ringtones.
Support for DTMF, which lets users enter numbers to access an auto attendant.
Bluetooth support (iPhone only).
Optional customized branding available for enterprises and ITSPs.
F-ROUTE still have many improvements and additional features planned for SessionTalk including G.729 codec support, call recording and SMS support which will be available in the next few weeks. The company will also have an Android version available later this year. SessionTalk 3.1 is sold exclusively through the following link on the iTunes Store for $4.99.
About F-ROUTE
F-ROUTE Ltd is a privately owned software development company with a focus on mobile VoIP development. The company is based in Manchester, United Kingdom and was established in November 2009. The company's founders have a track record of developing Enterprise VoIP and Social Networking applications for major telecommunications operators.
# # #