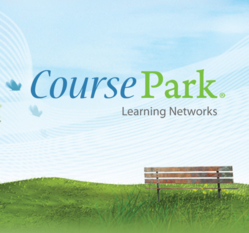 It's becoming a quiet revolution – Companies, governments and people are saying eLearning needs to catch up to the populous
(PRWEB) April 21, 2011
CoursePark, the world's leading Learning platform for employers and individuals announced the addition of two new content and community partnerships with ILostMyJob.com and LinkedIn's Star: Performer group.
"We are dedicated to bringing organizations and people together in one learning community," said
Emad Rizkalla, President and CEO. "From our private Learning Networks that provide corporate integrity and security, to our public Learning Networks that provide award winning courses and product education, and our community networks that support community based groups and organizations. We are receiving a tremendous response and expect to be growing our partner base exponentially throughout 2011 and beyond."
Through a new partnership with ILostMyJob.com, CoursePark will provide hundreds of thousands of job seekers around the world with access to thousands of proven courses to expand and strengthen their skills during their period of unemployment. CoursePark's new partnership with Star: Performer will provide individual job seekers with access to online courses and tools to enhance their ability to secure promotions and highly sought jobs.
In addition to providing their organizations with access to world-class skills training, both
ILostMyJob.com and Star: Performer will be developing custom content on CoursePark in direct response to the needs of their users.
"It's becoming a quiet revolution – Companies, governments and people are saying eLearning needs to catch up to the populous. These new partners bring over a million new potential visitors to CoursePark each year. We now are gaining users and partners at 10 times the speed of just 3 months ago," added Rizkalla. "Not only does the newest generation of employees and job seekers demand more learning and networking opportunities, the existing generations have evolved and are actively seeking out opportunities to become a part of communities of learning. Imagine, a new project manager can take corporate courses on policy and compliance in the same learning platform where they also collaborate with other project managers. Now we are rapidly seeing content providers and community leaders joining in!"
About CoursePark
CoursePark's is the world's leading eLearning platform and content provider. It has over 30 000 users, located in over 52 countries. CoursePark is a subsidiary of Bluedrop Performance Learning, one of the most pedigreed training and development companies in the world. CoursePark was created in response to widespread client frustration selecting, implementing and using LMS. CoursePark's goal is to make online learning management and learning easy for companies and individuals alike.
For more information on CoursePark's new content and partners visit http://www.coursepark.com or email info(at)coursepark(dot)com.
###