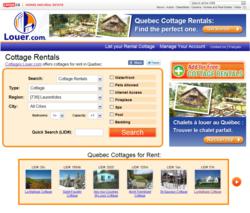 With some of the most qualified search share in its sector, Louer.com has increased its traffic to over 250,000 monthly visitors.
Montreal, Quebec (PRWEB) April 26, 2011
Cottage rentals trending upwards in Quebec
Originally conceived to display residential and business properties in Quebec, Louer.com is further expanding its focus on the growing trend of cottage rentals in the Quebec market. With some of the most qualified search share in its sector, Louer.com has increased its traffic to over 250,000 monthly visitors. With this type of visibility and usage, the site proactively decided a re-design was in order to become even more user- and mobile-friendly.
Some of the many advanced features on the new Louer.com site include improved search and display panel for cottage, residential, and business rentals; more mobile-friendly experience for visitors searching the site using smartphones; and easier sharing of potential properties with friends and followers via Twitter and Facebook social media channels.
"The real estate market, not to mention the field of marketing, has changed quite a bit since our last re-design in 2009," says Pat Spadafora, Marketing Director at Louer.com. "Louer.com attracts major players in the Quebec real-estate market, and traffic to the site has increased exponentially since our original launch in 2004 and our visitors and customers provided us with excellent feedback as to what they wanted to see. And as more and more people are trending towards weekend getaways in cottages, I believe our new cottage-rental feature will be very popular, not only for those looking to rent out their property, but also for those looking for the perfect place to escape."
Louer.com consistently ranks high on numerous searches for rental property listings
Featuring an improved display and search panel for business, residential, and cottage rentals, Louer.com has propelled itself to the top of search results on major search engines, including top results for the terms "appartement", "bureau à louer", and "chalet à louer" on Google.ca.
Prospective tenants using the site will be able to explore all the ins-and-outs of the properties they are interested in renting, with full-colour photos, downloadable floor plans, and interactive maps available for each listing. These features are all aimed at saving time and helping potential renters learn even more about the listed property.
With the recent improvements made to the Louer.com site, finding or listing a rental property is now more simple, efficient, and mobile-friendly.
Visit our new section of Quebec Cottage Rentals to see for yourself!
About Louer.com
Louer.com displays listings for residential, cottage, and business rental properties in Quebec. A free service for potential tenants, Louer.com delivers detailed property listings to help you find the rental property that's right for you.
Contact:
Pat Spadafora
Marketing Director, Louer.com
5879 Henri-Bourassa East, Suite 308
Montreal, Quebec H1G 2V1
(866)455-6837
pr(dot)web(at)louer(dot)com
http://www.louer.com
###