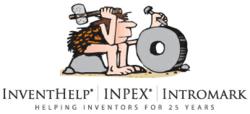 Pittsburgh, PA (PRWEB) April 22, 2011
InventHelp®, America's largest inventor service company, announces that one of its clients, an inventor from Florida, has designed a circular cover that could protect an automobile rim while a user washes the tire. This invention is patented.
The "Rim Protection" accessory could enable a user to wash a tire without soiling a clean or polished rim. Hinged panels would allow the cover to be folded and stored for a later use. The design of the Rim Protection could eliminate the need to clean or polish the rim twice in one wash session.
The Rim Protection would consist of transparent acrylic plastic sheeting. The circular rim cover would be partitioned into eight long panels. Each panel would measure approximately 9 inches wide on the outer end and all panels would converge at the center point of the cover. Two hinges at the top edge of each panel would be attached by screws and allow the panel to be flipped upward. The handle, comprised of PVC pipe, would screw or snap into the center hole. A cover would be secured to each rim after cleaning or polishing to protect the rims from getting dirty while cleaning the tires. After use, the covers could be removed and folded up. The Rim Protection could also be produced from waterproof cloth material.
InventHelp® is attempting to submit the invention to companies for review. If substantial interest is expressed, the company will attempt to negotiate for a sale or royalties for the inventor. For more information, telephone Dept.08-ORD-896 at (800) 851-6030.
# # #