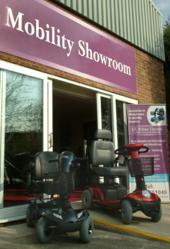 "Based on the age and vulnerability of many of our customers, we have built our business on honesty, expertise and after sales service"
Great Bentley, Essex (PRWEB UK) 20 April 2011
Now the company has opened a purpose-built mobility scooter showroom at its Great Bentley headquarters, offering an unrivalled level of access, choice and expertise.
Amanda Hooper, whose Father John founded the business in 1972 says: "Based on the age and vulnerability of many of our customers, we have built our business on honesty, expertise and after sales service. We already have the NHS contract in Suffolk and take care of thousands of wheelchair users. Our team here has many years of experience and includes professional engineers and upholsterers. Although there are thousands of wheelchair users in the region, each person had individual needs from general comfort issues to being able to carry complex medical equipment. Our in-house team of experts are able to customise any wheelchair or mobility scooter to customer's individual requirements."
The extensive new showroom features a range of mobility vehicles to suit every range of budget and personal requirement, and as with the last 40 years, the company is determined to go the extra mile.
"The new showroom is completely wheelchair friendly," explains Amanda. "Customers can park right outside the door; browse at their leisure and even take a test drive outside. Our aim is to get to know each customer so we can guide them towards something that will give them the freedom of mobility they need".
The company's unique levels of customer service also extends to options including free insurance, a guaranteed buy-back service, extended warranties, home demonstrations, servicing and repairs and even a free wheelchair with some of the ranges.
"We never underestimate how crucial it is for our customers to stay mobile and have access to a reliable and trustworthy service," concludes Amanda. "That's why we always keep our promises, and that's why we're the NHS choice and why we're still going strong after 40 years."
###