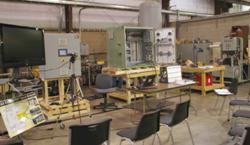 Schofield, WI (PRWEB) April 21, 2011
Seats are still available for this outstanding course. Designed for plant supervisors, engineers, and consultants wishing to improve their understanding of hydroelectric control systems. It also offers practical considerations for planning and executing control system upgrade projects.
Click here (pdf) for an information packet and registration information.
Topics Include
Governor Theory
Evolutionary Overview of Governor Systems
A Digital Governor: System Overview
Modern Digital Control Modes
Managing Obsolescence
Considerations for Evaluating an Existing System
Review of PID Control Theory and Tuning Simulation, including LSConfig with Trending
System Mechanical / Hydraulic Analysis
Practical Control System Specifications
Excitation Systems
Main Distributing Valves
Instrumentation and Signal Feedback Considerations
Integration of Protective Systems
NERC/CIP Requirements
(3) Case Studies: Presented by customers from their perspective
Key positions within L&S Electric account for nearly 300 years of combined, relevant experience that originates with either Woodward Governor Company, BC Hydro, the United States Bureau of Reclamation, or General Electric.
Location
L&S Electric - Engineering Division, 1810 Cty Rd XX, Rothschild, WI 54474 USA
Phone: 877-258-5128. Fax: 715-355-5948
Cost
$1650 USD. Fee includes: Lodging, Ice Breaker Reception, Continental Breakfast and Lunch Each Day, (2) L&S Electric-sponsored Dinner Events, and a Course Reference Binder.
###