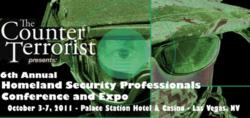 Miami, FL (PRWEB) April 20, 2011
Special Offer: A registrant will receive one book of their choice from one of the following speakers free of charge with the paid registration of three people.*
Here is a highlight of the expertise at this year's conference:
John Giduck - Author of "Shooter Down: the dramatic, untold story of the police response to the Virginia Tech Massacre", "Terror at Beslan"
"An explosive expose of Russian failure and what America must do to protect its children."
This is the complete and accurate story of the Beslan School Siege that occurred in Russia on September 1, 2004. This book tells the untold story about the victims, the soldiers who were there and the history of the events leading up to the tragic incident. But more than just the story, this book highlights the lessons America's school system can learn from the tragedy to protect itself from terrorism.
Ebrahim Ashabi - Author of "Evolution of Radical Islam: Jihadist plans to conquer the world"
Ashabi does a fantastic job of educating you without any other purpose. He touches on all aspects by laying out all the facts and tells it like it is but never dwelling on one thing. He leaves enough information that if one wanted to dig further into an area there is enough to go on. Some areas that he touches on are: the goal of the Islamist, Sharia Law, the role of women in Islam, Hezbollah, the fall of the Soviet Union, etc. His presentation includes graphic pictures of judgements. To end, this book will increase awareness and understanding once and for all that Islamic terrorism is here to stay.
Dr. Mauricio Lynn - World-renowned specialist in disaster medicine
For this year's conference, Dr. Lynn will speak about disasters and the proper response to save lives. He will share details of his visit in Haiti, the Turkish Earthquake, Nairobi embassy bombing, and more. This is a must attend class for anyone in any agency concerned with Homeland Security and natural or man-made disasters.
Mordecai Dzikansky – Author of "Terrorist Cop"
Terrorist Cop is a colorful, haunting, and highly graphic tale of New York City homicide detective Morty Dzikansky. Dzikansky's career began with a yarmulke on his head, patrolling Brooklyn's streets, and going undercover to catch a band of Torah thieves. Post 9/11, the NYPD sent Dzikansky to Israel to monitor suicide bombings as part of Commissioner Ray Kelly's plan to protect New York from further terror which led to him becoming an expert on suicide bombings. The result also led to Dzikansky's own private descent into hell as a post-traumatic stress disorder victim.
Henry Morgenstern – Author of "Suicide Terror: understanding and confronting the threat"
Using eyewitness accounts, the text re-creates the look and feel of actual terrorism incidents. Detailed case studies help readers get into the minds of suicide terrorists in order to understand how to best prevent and confront these very dangerous threats.
This book is a definitive study of suicide terror, synthesizing the experience of well-known Israeli and American experts who have dealt with it firsthand. Anyone responsible for understanding, preventing, and confronting this devastating threat should read this book and consider its recommendations with all seriousness.
SSI's HSPCE will be held October 3rd through the 7th at the Palace Station Hotel & Casino in Las Vegas, NV. Registration is still available as are sponsorship and exhibit space. SSI is expecting to sell out this year so register and take advantage of the book offer now.
*Offer available while supplies last and are based on inventory at SSI office. For current availability, contact the SSI office at (866) 573-3999.
MORE ABOUT SECURITY SOLUTIONS INTERNATIONAL (SSI)
Security Solutions International (SSI) has helped more than 1,000 Federal, State and local agencies by training to prevent, prepare and respond to the asymmetrical threat of organized crime, gangs, drug cartels, terrorist organizations, disease and natural disasters since 2004. Please visit our client list and testimonial section, and let your colleagues tell you that we deliver only hands-on, real-time experts and carefully selected products to support First Responders in their difficult Homeland Security mission.
Security Solutions International also provides the professional First Responder community with the leading media in the field as the publishers of the Counter Terrorist Magazine, the Counter Terrorist Newsletter, Webinars and interactive learning, as well as the annual Homeland Security Professionals Conference – the central event in the First Responder calendar.
The company has been contracted to provide content for the newly established, first in the nation, Homeland Security Network which made it's debut in 2010. The completely secure network is be completely sponsor driven and provides First Responders with something they most need, a centralized, free source of real-time actionable intel, training, networking and learning experience.
http://www.homelandsecurityssi.com
###