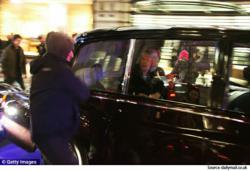 Weddings are like gold mines for thieves and robbers. Technology makes it very easy for them to access every detail about your event. All they have to do is show up to completely ruin it.
(PRWEB) April 21, 2011
As Prince William and Kate Middleton prepare for their April 29th Royal Wedding, one of the issues surrounding such a monumental event is a topic that's been seldom covered outside of high-profile weddings. This is the issue of security.
British Intelligence has spent a lot of time and effort planning, modelling, and simulating the many security concerns surrounding this wedding day. There are real threats who will use this event as a launch pad for acts of anarchy and/or protest. Even as recently as December of last year, a security breach allowed protesters to vandalize the vehicle carrying Prince Charles and Camilla Duchess of Cornwall.
And how about the ongoing extremist threats as well as repeated bombing attacks from the Real IRA over the past decade? British security is going to have their work cut out for them. Plus, it's going to be even harder once Will and Kate's motorcade parades across the streets of London with millions of onlooking spectators.
"Chances are, your wedding will not be as high profile as this one, but it is important nonetheless to take preventive measures when planning your event," explains Carmen Luk, lead designer for Toronto Wedding Planning company Devoted to You Inc, "Both you and your guests will be dressed to impress, and that means a lot of precious jewellery will be worn. You're also going to have lots of expensive gifts and thousands of dollars in loosely guarded cash. To no surprise, weddings are like gold mines for thieves and robbers. Technology makes it very easy for them to access every detail about your event. All they have to do is show up to completely ruin it."
Look no further than the case of Pamula W. McBride in Spokane, Washington early last year. She was arrested and suspected of stealing from at least three separate weddings in the summer of 2009.
Hiring security for a wedding should be on the top of every host's mind. In addition to theft/robbery prevention, security is also useful for taking care of unwanted guests, such as the angry ex, an uninvited relative, or even wedding crashers. The last thing anyone wants is a great wedding turned sour due to the actions of one or a few people.
"The next thing you'll need to do is ask yourself whether you want a security guard or a police officer. Paid duty police officers are more expensive, but then again, you get the kind of protection and deterrent you won't get with a security guard. They only cost a few hundred dollars for the night, but if you're on a tight budget, in most cases security guards work just as well. Just call ahead and ask what their policy is; sometimes they require that you hire at least 2 officers/guards to backup each other," advises Ms. Luk.
Whether or not security is ultimately hired, it is still important to always take preventive measures in order to ensure the wedding runs smoothly. Here are some helpful tips:
1) Don't leave the gift box close to the entrance or exit
2) Ask all guests to bring their invitations to the wedding to identify themselves
3) Always have at least one person attending the gift table
4) Ask the vendor in advance if they have a safe to store valuables during the wedding
5) Tell the guests not to leave valuables in their cars
6) Hire security pickup of your money box to transport to a safety deposit box at the bank
Read more tips from Devoted to You Inc. on The Wedding Blog.
About Devoted to You Inc.
Devoted to You Inc. boutique style wedding planning company serving enamored couples in the Greater Toronto Area. Since its inception in 2006, Devoted to You has been interviewed and featured in many different publications, television shows, and radio programs. In early 2011, Devoted to You co-organized the highly publicized We Wed Bridal Show in Markham, Ontario.
About Carmen Luk
Carmen is the lead designer and planner for Devoted to You Inc. She's planned weddings, events, and managed multi-million dollar projects for major corporations. She holds a WPICC designation from the Wedding Planners Institute of Canada, the only professional association in Canada whose accreditations are recognized nationwide as a dependable source for providing wedding planning excellence. Carmen is also a certified Project Management Professional.
###