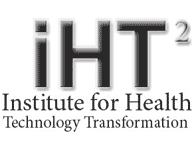 Given the fragmentation and overwhelming cost issues that we face in our current US Health Care System, we must 'revolutionize' how we deliver care
New York, NY (Vocus/PRWEB) April 19, 2011
The Institute for Health Technology Transformation announced today the speakers for their panel session entitled, "Health IT: A Necessary Foundation for ACOs" at the Institute's Health IT Summit in Ft. Lauderdale taking place May 10-11, 2011 at the W Fort Lauderdale.
The panel will be moderated by Neil Versel, Freelance Healthcare Journalist, MobiHealthNews and Editor, meaningfulHITnews.com, and speaking will be Kevin Maher, Director, Clinical Innovations, Horizon BCBS New Jersey; Victor Freeman, MD, Quality Director, Office of Health & Quality, Health Research & Service Administration; and Bruce Metz, PhD, Chief Information Officer, Thomas Jefferson University.
The panelists will be addressing a wide range of topics including: electronic health record, data management, health information exchange, and patient engagement. "Given the fragmentation and overwhelming cost issues that we face in our current US Health Care System, we must 'revolutionize' how we deliver care," said Victor Freeman. "Health Information Technology lays the foundation for the Patient-Centered Medical Homes that will be at the heart of every Accountable Care Organization. It's a revolutions in care delivery that is long overdue."
The iHT2 Health IT Summit in Ft. Lauderdale is the premier executive summit focused on the strategies and tools that are re-defining customer care, collaboration and efficiency in the health care provider markets.
"Participants will walk away with a firmer understanding of the critical technology components required to success and how to make the business case for the investment," said Kevin Maher. "I personally look forward from hearing and learning the multiple expert panel insights that will be discussed at this meeting."
Sponsors and Partners for the 2011 Health IT Summit in Ft. Lauderdale include: Apixio, Catalyst Solutions, DICOM Grid, DSS, EDIMS, Informatics Corporation of America (ICA), Intel, Elsevier/MEDai, LG CNS, MMR Information Systems, Microsoft, Proofpoint, RelayHealth, AMDIS, Broward County Medical Assocaition, CMIO, eHealth SmartBrief, Executive Insight, FierceHealthIT, Frost & Sullivan, HIMSS South Florida, IDC Health Insights, MarketsandMarkets, mobihealthnews.com, ReportsandReports, SearchHealthIT.com, South Florida Technology Alliance, and South Florida Hospital News and Healthcare Report.
About the Institute for Health Technology Transformation:
The Institute for Health Technology Transformation is the leading organization committed to bringing together private and public sector leaders fostering the growth and effective use of technology across the healthcare industry. Through collaborative efforts the Institute provides programs that drive innovation, educate, and provide a critical understanding of how technology applications, solutions and devices can improve the quality, safety and efficiency of healthcare.
# # #