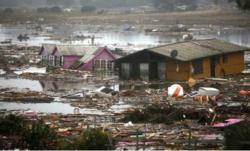 this mass alert system that will work by December 2011 across compatible phones, might be used in 2nd phase over digital television that is going to be introduced gradually across the country
Tel Aviv, Israel (PRWEB) April 19, 2011
eVigilo has been selected by the Chilean Sub-Secretary of Telecommunications during a tender process that has been proclaimed after the devastating earthquake in February 2010, that caused the death of more than 400 people.
The project's first stage, that was initially budgeted by the Sub-Secretary of Telecommunications with US$ 5 Million, will send emergency alerts and notifications to the population across the three existing mobile operators, and two more mobile operators that will be activated in the future, over GSM and 3G infrastructure using the cell broadcast technology.
"This is a very important step to meet one of the commitments of the President (Sebastián Piñera) for emergency situations: to provide a mechanism for timely information that will help save lives before a natural disaster," said Minister of Interior and Public Security, Rodrigo Hinzpeter
As one of the first tenders worldwide for the deployment of a cell broadcast based national emergency notification solution, the Chilean RFP has attracted large number of participants from Japan, China, Europe the United States and Israel.
eVigilo's IADC (Integrated Alert Distribution Center) solution has been selected due to its technical-economical superiority.
eVigilo IADC will send emergency alerts and notifications triggered automatically through sensor input (machine2machine notification) and through manual creation by Chile's Emergency Management Authority (ONEMI), sending messages to the population according to its geographic location.
Minister of Transport and Telecommunications, Pedro Pablo Errazuriz, noted that "the operation task this year is to have an automatic communication system that enables to inform people in time."
eVigilo IADC enables the sending of messages simultaneously across different means of communication such as mobile networks, sirens, pagers, radio, IP and TV.
Sub-Secretary of Telecommunication Jorge Atton, stated that "this mass alert system that will work by December 2011 across compatible phones, might be used in 2nd phase over digital television that is going to be introduced gradually across the country."
Same as in Chile, eVigilo's IADC solution has been selected to provide earthquake and tsunami notifications also in Israel, positioning it worldwide as one of the leading mass alert solution providers in its field.
eVigilo CEO Guy Weiss has said: "Chile's concern for the safety and security of its citizens is very high. We are thrilled and honored to have been selected to stand up to those requirements and to deliver the first cell broadcast based national emergency notification platform that will be operated in the Americas."
About eVigilo
eVigilo develops the industry's only fully integrated, multi-technology mass alert platform that can reach millions of people in just seconds – to enhance safety and security and save lives in emergency situations. Supporting multi-channel alert notification and communication, the holistic, flexible Integrated Alert Distribution Center (IADC) Platform is the most effective and efficient turnkey solution for mass alert systems used by governments, homeland security and rescue forces, educational institutions, energy companies, industry and public utilities. eVigilo is managed by its founders and backed by a high caliber, experienced team of security and software professionals. For more information, visit us at: http://www.evigilo.net
# # #