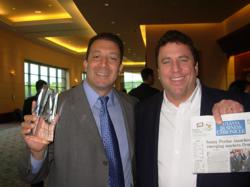 "To place #12 is quite an achievement," notes Pedowitz. "Last year we experienced explosive growth, despite a struggling economy, and we're on track for another incredible year!"

Atlanta, GA (Vocus/PRWEB) April 19, 2011
The Pedowitz Group (TPG), a leading demand generation agency, announces its #12 spot on the Atlanta Business Chronicle's Pacesetter List for 2011. This prestigious award is based on revenue and employee growth over a three-year period. TPG grew revenues over 275%, from 2009 to 2010. The employee base grew 358% from 2008 to 2010.
An awards ceremony featuring Georgia Governor Nathan Beal, was held at the Cobb Galleria on Friday, April 15. During the event, 50 dynamic companies were recognized for their performance over the last three years.
Jeff Pedowitz, Founder, CEO and Principal Partner cites four key factors contributing to The Pedowitz Group's stellar success:
1) Increasing market demand for Revenue Marketing®
2) Solid, strategic partnerships with world-class organizations
3) Exceptionally talented employees
4) Commitment to achieving best-in-class results for clients
"To place #12 is quite an achievement," notes Pedowitz. "Last year we experienced explosive growth, despite a struggling economy, and we're on track for another incredible year!"
TPG client, Servigistics, also was named a 2011 Pacesetter, coming in at #20.
Debbie Qaqish, Principal Partner and Chief Revenue Officer for The Pedowitz Group added, "Jeff's leadership was instrumental to the company's explosive growth. He sets a high standard for every team member and embodies our commitment to customer success."
Read about this year's Pacesetters in the Atlanta Business Chronicle:
http://www.bizjournals.com/atlanta/print-edition/2011/04/15/2011-pacesetter-awards.html http://www.bizjournals.com/atlanta/print-edition/2011/04/15/2011-pacesetter-awards-11-50.html
About The Pedowitz Group
The Pedowitz Group (TPG) is the world's largest full-service demand generation agency. With a focus on delivering marketing and sales automation solutions, TPG drives sustainable revenue and return on investment for global clients. TPG helps clients create and execute demand generation strategies and tactics that generate top line revenue. TPG coined the phrase Revenue Marketer® in 2009 and it is now a registered trademark of the company. Services include strategy, program design, system selection, implementation, integration, creative services and outsourced demand generation. Customers include such industry leaders as Comcast, Deutsche Bank, Intel and Palace Sports and Entertainment. For more information on how TPG helps clients become successful Revenue Marketers®, visit http://www.pedowitzgroup.com or blog.pedowitzgroup.com.
# # #