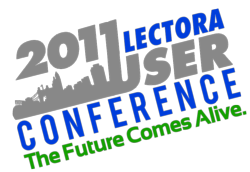 This $2,000 gift is our way of showing Lectora users our appreciation
Cincinnati, Ohio (PRWEB) April 21, 2011
Get $2,000 worth of free valuable products and services just for attending the 2011 Lectora User Conference. Each attendee receives two 6-month subscriptions to Lectora Online and one full Off-the-Shelf Content Library in addition to other surprise products. This Lectora User Conference Attendee Appreciation Pack thanks clients for their dedication to Lectora by giving them free access to innovative eLearning products.
"The 2011 Lectora User Conference is the premiere eLearning event that you won't want to miss," said Peter Bray, Chief Marketing Officer at Trivantis Corporation. "In addition to the $2,000 gift, the conference features many surprise announcements, major offers, and groundbreaking extras that are too substantial to reveal ahead of time. Attendees will be blown away by the magnitude of information and goodies that they'll uncover while at the conference."
The whopping $2,000 Attendee Appreciation Pack includes the Lectora Online collaborative eLearning authoring tool, eLearning content, and a few surprise additions. Lectora Online gives multiple authors a place to work on the same course at the same time and collaborate while creating eLearning content. The eLearning Content Library provides access to more than 3,000 training courses for employees on a range of topics including Innovation in the Workplace, Building Relationships, Microsoft training, and more.
The 2011 Lectora User Conference provides a place to learn, exchange ideas, ask questions, and network with other Lectora users. The conference takes place May 10-12 at the state-of-the-art METS Center in Erlanger, KY right across the river from Cincinnati. The Lectora User Conference Attendee Appreciation Pack is just one of the many reasons to attend this annual event. Attendees benefit from expert presentations, Lectora training sessions, and tips and tricks to maximize development skills.
The world-renowned Newport Aquarium hosts the Welcome Reception and kick-off of the 2011 schedule. This year's conference features Keynote speaker and internationally recognized Elliott Masie and his views for the future of learning. Tim Ferguson, Chief Information Officer at Northern Kentucky University, also presents his valuable knowledge on the mobile learning landscape.
About Trivantis Corporation
Trivantis Corporation produces Lectora, the world's leading e-Learning software, used by most Global 2000 companies, more than 70% of the Fortune 100, most of the Fortune 500, over 70 countries worldwide and major government and military services around the world. Trivantis Corporation also develops CourseMill learning management system and provides Custom Development Services. Headquartered in Cincinnati, Ohio, Trivantis Corporation also has offices in Boca Raton, Paris, London and Beijing. Website: http://www.Trivantis.com. Trivantis, Lectora and CourseMill are trademarks of Trivantis Corporation.
Facebook: facebook.com/Trivantis
Twitter: twitter.com/lectora
RSS: feeds.feedburner.com/TrivantisBlogs
###