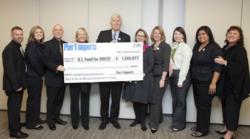 New York, NY (Vocus/PRWEB) April 19, 2011
Pier 1 Imports today presented a check for $1.3 million to the U.S. Fund for UNICEF representing the proceeds raised from the sale of UNICEF greeting cards during the 2010 holiday season. One hundred percent of the proceeds from the sale of UNICEF holiday greeting cards will go toward helping the U.S. Fund for UNICEF in its mission to decrease the number of daily, preventable childhood deaths from 22,000 to zero.
"Pier 1 Imports is an important partner to the U.S. Fund for UNICEF and we are delighted with the funds raised from its sale of UNICEF holiday greeting cards this past season," said U.S. Fund for UNICEF Senior Vice President of Development Robert Thompson. We look forward to many more years of partnership with Pier 1. Their continued support and dedication to UNICEF is invaluable in helping with our lifesaving mission worldwide."
This year, four Pier 1 Imports store managers and two field leaders were presented with plaques for 2010 holiday greeting card sales results. They are Bridgette Maine, Store Manager from Los Angeles/Palmdale; Corazon Gaffud, Store Manager from San Diego/Mission Valley; Brian Autote, Store Manager from San Diego/La Jolla; Marlene Thompson, Store Manager from Saint John NB; Teresa Schroer, Field Leader of San Diego region and Robert Lemke of California/Hawaii Division.
Pier 1 began selling UNICEF greeting cards in 1985 and is now the world's largest retailer of UNICEF greeting cards, having raised more than $28 million to date. The Pier 1 greeting card contest started in 1992 as a way to help raise awareness among U.S. school children about UNICEF's important work for children and families around the world, and has inspired kids from coast to coast to use their creative talents in a meaningful way. Each year, children in the United States ages 14 and under are invited to compete in the Pier 1 Imports/UNICEF Greeting Card Contest, with the winning design chosen from thousands of entries and reproduced as an official UNICEF holiday greeting card sold at Pier 1 Imports stores nationwide.
Funds from the sale of cards support UNICEF programs that provide lifesaving medicines, vaccines, nutritious foods, primary education, clean water and sanitation and emergency relief for millions of children and women in more than 150 countries.
ABOUT PIER 1 IMPORTS
Pier 1 Imports, Inc. is the original global importer and is North America's largest specialty retailer of imported decorative home furnishings and gifts. Information about the Company is available on http://www.pier1.com.
About UNICEF
UNICEF has saved more children's lives than any other humanitarian organization in the world. Working in more than 150 countries, UNICEF provides children with health care, clean water, nutrition, education, emergency relief, and more. The U.S. Fund for UNICEF supports UNICEF's work through fundraising, advocacy, and education in the United States.
UNICEF is at the forefront of efforts to reduce child mortality worldwide. There has been substantial progress: the annual number of under-five deaths dropped from 13 million in 1990 to 8.8 million in 2008. But still, 22,000 children die each day from preventable causes. Our mission is to do whatever it takes to make that number zero by giving children the essentials for a safe and healthy childhood. For more information, visit http://www.unicefusa.org.
###